Fernando Alonso says Ferrari must show clear progress at Spanish Grand Prix after Mugello test
| | |
| --- | --- |
| By Jonathan Noble | Thursday, May 3rd 2012, 17:52 GMT |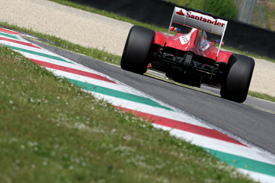 Fernando Alonso says Ferrari 'must' build on a solid week of testing with a step forward in performance at the Spanish Grand Prix if it is to keep its title hopes alive.
With the team delivering the first parts of a major update package on the final day of Mugello testing, Alonso says he is under no illusions about the importance of Ferrari's development plans - even though it is too early to judge how much of a step forward it will bring.
"We will try to reduce the gap with the leaders at the moment because we were on average eight or nine tenths off the top guys in the first four races between Q1 and Q3," he said. "We need to reduce this immediately if we want to be in the fight for points and the championship.
"In Barcelona, we need to do the first step. We know there is no magic button that in Barcelona we will be on pole position, because everyone will improve their cars as well. But we need to reduce this gap.
"Barcelona has to be the first step, in Canada the second step, and Valencia the third – to be close to them. But the Barcelona one for sure is one of the most important steps that we have to do. We must do it. We cannot be fighting for Q3 if we want to be fighting for the championship."
Alonso ran a new exhaust concept and rear bodywork on the final day at Mugello, but has played down the significance of what he tried out - and thinks too much is now being made about exhaust designs.
When asked for his feeling on the new exhaust configuration, he said: "Nothing surprising in terms of performance. I think we tried different configurations of exhaust layout and each day we had a different one and different parts on the car. I think it was just to confirm what our thoughts were and what to bring for the next races and for development.
"This year it is not any more important what position you choose [for the exhausts], or how you manage the position. We saw in Australia one of the quickest cars had the lateral exhausts like McLaren, we saw in China two Red Bulls with different [exhaust] positions and we saw in Bahrain, Red Bull with the lateral ones, but the quickest car was Lotus with the straight ones.
"So we cannot lose even five minutes on this. There are bigger areas of the car where we need to improve and we try to do it."
What was encouraging for Alonso was the fact that there now appears to be a good correlation between windtunnel figures and Ferrari's track data.
"In a way it was a positive week and a positive test, because all the parts we put on, even if they were small in terms of performance, they worked as expected," he said.
"After some problems in the winter and last year, where we brought new parts for testing, six were working and four of them not working, here even if we only brought three or four, all were working as expected.
"So this gives us confidence for Barcelona, of bigger updates and future development. And now it seems we can trust the factory a little bit more."