Romain Grosjean says development now key for Lotus
| | |
| --- | --- |
| By Andrew van Leeuwen | Thursday, May 3rd 2012, 17:28 GMT |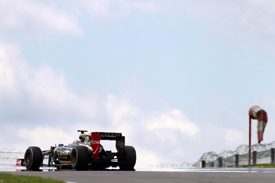 Development will be the key to success in Formula 1 for Lotus over the remainder of the 2012 season, according to Romain Grosjean.
Fresh from topping the second and third days of in-season testing at Mugello, Grosjean indicated that the Lotus E20 will feature a raft of updates at next week's Spanish Grand Prix at Barcelona, with ongoing development key to fighting with the likes of Red Bull Racing, McLaren and Mercedes on a regular basis.
"Development is the key this year," he said.
"I think that we saw in China that if you gain one tenth, then the car is maybe five places [further] on the grid. We're trying to get everything we can from the car. There will be a nice update coming, and that's good to know."
Grosjean also confirmed that the team understood the E20 better now than it did before the three-day test, right down to the car's baseline.
"We are now more clear on the baseline that we want to start with. It was not really 100 per cent from the first grand prix, but now we know what we want to put on the car, we know where we want to start, and that's a good point. We could confirm [at Mugello] that what we have is the right thing to have."
A crucial factor for Lotus at Barcelona may well be the weather, with Grosjean admitting the car is better in warmer conditions.
"Sakhir was the more realistic track in terms of the temperatures we may get if the summer, or spring, wants to come at some point. It seems the E20 is working better when it is hot than when it's cold."