| | |
| --- | --- |
| Valentino Rossi optimistic for Estoril after adopting Ducati team-mate Nicky Hayden's set-up | |
| | |
| --- | --- |
| By Toby Moody and Tom Mallett | Thursday, May 3rd 2012, 16:55 GMT |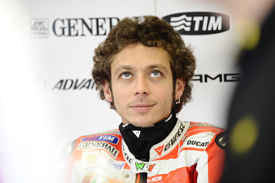 Valentino Rossi says he is optimistic that he will be able to extract more performance from the Ducati at Estoril this weekend, after taking team-mate Nicky Hayden's lead on set-up.
Despite only finishing in ninth position at Jerez, the Italian said he felt more confident in the latter stages of last weekend's race, providing a better basis for him to get the most from his bike at in Portugal.
"We have to start this weekend from the last laps of Jerez, because at the end of the race my rhythm was not so bad and I did some good lap-times," he said.
"The target here is to work on the same settings tomorrow, to try and arrive at Saturday afternoon with better speed and try and improve our position in qualifying. This is the target for this weekend and to understand how to arrive at 100 per cent with this bike and these settings."
Rossi switched to Hayden's set-up during the Spanish Grand Prix weekend. The American has outpaced Rossi so far this season.
"Generally speaking the bike of Nicky is a bit more low and long, mine is a bit more high and short. This is the difference, speaking in an easy way," said Rossi.
"The performances of Nicky have been better than us in these two races, so it means that maybe that setting is better. Also, that setting is close to what Ducati usually needs to be fast."
Hayden confirmed that Rossi is keen on his set-up.
"Talking to the engineers it is clear that he likes my set-up and he might follow our direction, which confirms the work we have done, especially at the Jerez test," said Hayden.