Kyle Busch puzzled by poor start to 2012 NASCAR Sprint Cup campaign
| | |
| --- | --- |
| By Diego Mejia | Friday, April 27th 2012, 19:29 GMT |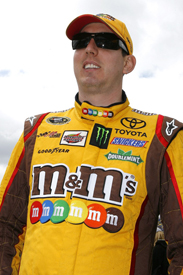 Kyle Busch says his Joe Gibbs Racing team is still trying to get to the bottom of set-up issues that have hampered him during the start of the 2012 NASCAR Sprint Cup Series season - but thinks this weekend's Richmond race could start his recovery.
The Toyota driver won four races last year and led the standings prior to the Chase, but is currently only 13th in the drivers' standings, with just a single top-five finish in eight starts in 2012.
While Busch has struggled so far, his team-mate Denny Hamlin has won at Phoenix and Kansas, while the third JGR entry of Joey Logano is one place ahead of Busch in the standings.
Busch is the only one of the trio to have retained his crew chief from 2011 - Dave Rogers - but has not benefited from that stability.
"I think that we have been a little bit off this year and why? I don't know," said Busch at Richmond on Friday. "It's just kind of been a little bit of a struggle to find comfort in the cars and speed in the cars this year so far for me.
"This year, it seems like the #11 [Hamlin] is doing a little bit better job of being able to show up to the racetrack ready to go and have speed in the cars.
"The #18 [Busch's crew] and the #20 [Logano] are now scratching their heads a little bit. We're trying to turn it around and this is a good place for us that we've run really well at in the past. I'm hoping that this weekend we can kind of redeem ourselves and run top five at least."
Still hunting for his first Cup title, Busch has put more focus on his premier class effort this year and reduced his Nationwide and Truck involvement - but does not think this change of strategy has paid off.
"I've spent a lot more time on the Cup stuff," says Busch. "I've been spending time with Dave in the hauler on the weekends during the race events talking over different things about how our car was in practice, what we need to look at to change, qualifying adjustments, race adjustments - all that stuff.
"I could be dialling myself out a little bit too much, maybe by talking too much or saying too many things, where before I'd be off to the next practice and not spending so much time with Dave, and Dave would just surprise me and I'd just drive the thing."
Hamlin believes that by sharing information with Busch's crew, his race-winning success will soon rub off on his team-mate.
"We feel like we're in a good enough spot now that they're taking a lot of what we see and applying it to their cars," said Hamlin. "They're going to get better here pretty soon - this weekend, probably."