Di Resta: Sixth place in Bahrain GP vindicates Q3 strategy
| | |
| --- | --- |
| By Edd Straw and Matt Beer | Sunday, April 22nd 2012, 15:48 GMT |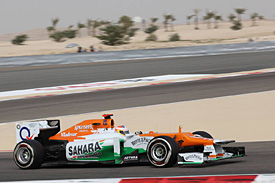 Paul di Resta says his sixth place in the Bahrain Grand Prix proves that Force India was absolutely right to sit out Q3 on Saturday.
The Scot reckoned a giant-killing qualifying result might have been possible given his pace at Sakhir, but that it was better to save a set of fresh tyres for the race so he could pull off the two-stop strategy that took him to sixth - equalling his Formula 1 career best.
"We played our cards right in qualifying by saving a set of tyres," di Resta. "We could've gone out there and been a hero in qualifying but today is when it counts and you grab the points.
"It was an amazing job by the whole team in the combination of pitstops and strategy. At one point they said 'another 10 laps on these tyres', and I thought they were asking too much, but no."
Di Resta believes Force India now needs to use his result to 'kick-start' its season.
The team was sixth in last year's constructors' standings, but has seen late-2011 rival Lotus (formerly Renault) stride forward, and Sauber and Williams's strong starts to the season push it back to eighth in the order at present.
"We'll certainly hopefully come to Barcelona in fighting form with the new aero update," said di Resta.
"We need to kick-start our season. There's a lot of people around us that have scored some big points, and we need to keep this form."
He also noted that sitting out the second Friday practice session so the crew could leave the circuit in daylight following an incident with protestors on Wednesday night had not hampered Force India in the end.
"Missing FP2 doesn't look like it made too much difference for us," di Resta said.
The sister Force India of Nico Hulkenberg lost ground on lap one and could only finish 12th.
"My race was pretty much over at the start. Already rolling out of the garage going to the grid we had some clutch issues," he said.
"The clutch didn't behave as we wanted it to, so that compromised the start totally. I had anti-stall and was pretty much last after the start, so from there a pretty difficult race.
"It's been a tough weekend, and there's nothing I can do about these clutch issues. We'll have to look into it and see what it was. It's frustrating."