Vettel still expecting very tight season despite Bahrain Grand Prix victory
| | |
| --- | --- |
| By Jonathan Noble and Matt Beer | Sunday, April 22nd 2012, 14:28 GMT |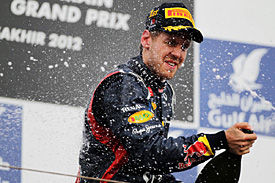 Sebastian Vettel does not believe that his victory in the Bahrain Grand Prix makes a change in the balance of power in the 2012 Formula 1 title fight, as the reigning world champion thinks the season will continue to be very unpredictable.
Red Bull had trailed McLaren and often also Mercedes in the opening three rounds, with Vettel unable to secure a pole or victory prior to Bahrain.
But his win at Sakhir - on a day when McLaren could manage no better than Lewis Hamilton's eighth place - moved Vettel back into the championship lead that he had held for all of 2011.
Despite the Bahrain result looking like a return to 'business as usual' for Red Bull, Vettel said he expects the top teams' form to keep fluctuating - and believes McLaren remains a very serious threat.
"It's a very tight season, the cars are very close to each other and small things can make a huge difference on a Sunday," he said.
"I think we started the season saying that the McLaren is the fastest car by quite a bit and we've seen that on Sunday it can be a different picture. I think they still have one of the strongest packages.
"But you need to get everything right, you need to have the right tyres, you need to treat them right, you need to find the right set-up through the course of the weekend, so a lot of things to look out for."
Vettel reckons the decision to run an older exhaust package on his car at the preceding race in China, while team-mate Mark Webber continued with the latest spec, had helped Red Bull got to grips with its 2012 car better ready for Bahrain - though he admitted that he was not expecting this weekend's upturn in performance.
"I am very happy we made it [to victory] here. We were not quite sure how competitive we would be," he said.
"I think China was a very good lesson for us to understand the weakness of the car a little bit more by driving with two different packages. Here we focused on the new package and pushing that forward."
The German added that for now he was content to be pleased at having got back to the top step of the podium, rather than worrying too much about whether Red Bull's resurgence was permanent.
"I'm just happy for now, I don't really care what happens in the next race, at least not today," said Vettel.
"I think we will have a good time now and push harder so that we make sure we are there again next race."