Vita4One BMW defeats Munnich Mercedes in Zolder GT1 World Championship qualifying race thriller
| | |
| --- | --- |
| By Gary Watkins | Saturday, April 21st 2012, 13:59 GMT |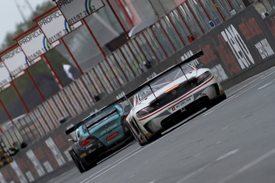 Vita4One BMW drivers Yelmer Buurman and Michael Bartels won the qualifying race at round two of the FIA GT1 World Championship at Zolder.
Buurman brought their BMW Z4 from sixth on the grid to fourth on a drying track over the first half of the race. A quick turnaround by the Vita4One crew got Bartels out on slicks in third.
That became second when the leader, Frank Stippler in the best of the WRT Audis, had to return to the pits for slicks after being sent out on a set of grooved Pirellis. Bartels subsequently moved into the lead when Markus Winkelhock's All-Inkl Mercedes slowed when its accelerator assembly broke with four laps to go.
Bartels came under pressure from Thomas Jager in the second of the two Mercedes, but was able to hold on to claim victory by just half a second at the end of the one-hour race.
"It's good to make up some ground after a very difficult weekend at Nogaro when we only scored one point," said Vita4One team boss Bartels, whose BMWs have been given a larger-diameter air-restrictor for this race.
Jager, who shares his All-Inkl Mercedes SLS AMG with Nicky Pastorelli, closed down a 6.5s deficit to Bartels in less than 10 laps, but was unable to mount a significant challenge on a track that was still damp off-line.
Third place went to the Exim Bank Team China Porsche in which Matt Halliday had qualified on pole position before being docked two places for crossing the white line at the exit of the pitlane. Team-mate Mike Parisy dropped ground in the beginning before recovering to third, but too much time was lost at the pitstop, by a team only put together in the past month, for Halliday to mount a challenge for victory.
Peter Kox led the early laps in his Reiter Lamborghini before being pulled into the pits to take a penalty for jumping the start.
Results - 36 laps:

Pos  Drivers                   Team/Car                 Time/Gap
 1.  Bartels/Buurman           Vita4One BMW         1h00m41.928s
 2.  Jager/Pastorelli          Munnich Mercedes         + 0.567s
 3.  Halliday/Parisy           Exim Porsche            + 20.578s
 4.  Makowiecki/Dusseldorp     Hexis McLaren           + 21.119s
 5.  Mayr-Melnhof/Lauda        Vita4One BMW            + 21.462s
 6.  Winkelhock/Basseng        Munnich Mercedes        + 25.785s
 7.  Ide/Castellacci           AF Corse Ferrari        + 41.336s
 8.  O'Young/Kox               Reiter Lamborghini      + 49.829s
 9.  Martin/Vasiliev           Valmon Aston Martin   + 1m03.752s
10.  Demoustier/Parente        Hexis McLaren         + 1m09.961s
11.  Stippler/Jarvis           WRT Audi              + 1m10.255s
12.  Vanthoor/Ortelli          WRT Audi              + 1m39.328s
13.  Vilander/Salaquarda       AF Corse Ferrari          + 1 lap

Retirements:

     Zuber/Afanasyev           Valmon Aston Martin       18 laps
     von Thurn und Taxis/Enge  Reiter Lamborghini         9 laps
     Lariche/Wei               Exim Porsche               7 laps
     Pavlovic/Cressoni         Sunred Ford                0 laps