NASCAR Sprint Cup drivers split over plans for changes at Kansas Speedway
| | |
| --- | --- |
| By Diego Mejia | Saturday, April 21st 2012, 01:45 GMT |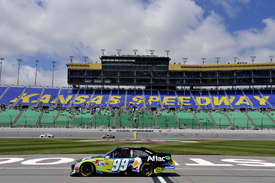 NASCAR Sprint Cup Series drivers have expressed mixed views over the upcoming repaving of Kansas Speedway, where they compete on the current surface for the last time this weekend.
Following recent resurfacing and reconfiguration projects at a number of NASCAR tracks, such as Daytona, Phoenix and Michigan, and with changes to Bristol looming, Kansas is yet another venue set to take on a different look before the Cup field returns again.
The track will get new asphalt and increased, variable banking, among other changes including an infield road course. The layout's current 15 degree banking will change to 17 and 20 degrees, an alteration that, combined with the new surface, is expected to increase cornering speeds.
Roush Fenway's Carl Edwards, who considers Kansas Speedway to be his home track, led critics of the plan.
"I would not resurface this track ever," said Edwards. "I wouldn't resurface tracks ever if it were up to me. I'd patch the holes and keep on running."
He added: "There are so many different things that NASCAR and our sport has to manage and I know no one wants to sit through a delay while they fix a hole in the track.
"I understand that we have to address those things, but I am a racer that likes to race on a bumpy, rough, slick racetrack with the cars sliding all over the place. That's what I like."
Jeff Gordon, winner of the first two races staged at the mile-and-a-half track, agrees with Edwards' view that the track's current condition makes for good racing - but also insisted he trusted track owner International Speedway Corporation.
"I don't really understand why they are paving this racetrack," said the four-time Cup champion. "It looks great out there. This place is awesome. I wish they wouldn't touch it."
He added: "I feel like ISC has got enough information and experience paving racetracks that I have faith they can do the right thing."
Penske's Brad Keselowski, who claimed his maiden Cup win at Kansas a year ago, recalled how in 2004 a chunk of loose concrete at Martinsville caused severe damage to Gordon's car, costing him a likely victory, and also how the 2010 Daytona 500 was interrupted twice for more than two-and-a-half hours due to a pot hole between Turns 1 and 2. In both cases the tracks were completely resurfaced as a consequence.
"I think you should ask Jeff if he thought it was worth the risk at Martinsville that year when that chunk came through and cost him the race," said Keselowski. "I think then he would answer it a little bit differently."