Mercedes expects to confirm its position from the Bahrain Grand Prix
| | |
| --- | --- |
| By Edd Straw | Thursday, April 19th 2012, 14:29 GMT |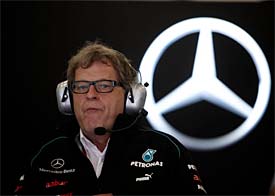 Norbert Haug expects to get a clearer picture of whether Mercedes will be in a position to win more races in 2012 from this weekend's Bahrain Grand Prix.
Nico Rosberg took the first win for the works team since it was revived for the start of 2010 after 55 years out of F1, but Haug is taking a cautious approach to predicting further wins.
Key to this will be Mercedes proving that it has got on top of Pirelli's 2012 rubber after struggling with tyre degradation during the Australian and Malaysian grands prix.
"We thought that we were going in the right direction in Malaysia, but then it was wet and cold," Haug told AUTOSPORT. "Here, we have the chance to learn if we understand the car in the right way.
"I want to be very cautious but there are no signs that we shouldn't be in a position to do a balanced job here. But don't ask me if this is position five, 12 or wherever.
"It's difficult to say whether it's this weekend [that will confirm if Mercedes will be a regular victory contender]. Normally you know where you are in Barcelona as it takes some races. But there is not the typical pecking order like in the past. It's difficult to predict."
Haug added that Nico Rosberg's impressive qualifying performance in China, where he took pole position by half-a-second, proves that he has the potential to put the team in a strong position for the race.
With the field so tightly packed, the advantage of clear air at the start of the race could prove to be crucial.
"Pole position is now more valuable than it ever was with these tyres," said Haug. "You always want to be on pole, but you probably get a better reward now than in different tyre generations.
"Nico gained a lot of confidence from his qualifying lap. He felt good in the car and the lap was, in my experience, one of the most stunning you will see. Everything was close, but all of a sudden he was half-a-second quicker."