Former opposition leader says holding F1 race in Bahrain is the right move
| | |
| --- | --- |
| By Jonathan Noble | Thursday, April 19th 2012, 09:17 GMT |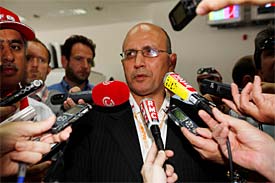 Jasim Husain, an economist who previously represented Bahrain's leading opposition group Al-Wefaq for five years, insists that holding the Formula 1 race is the right move for the Gulf state.
Amid heightened concerns in F1 following news that Force India mechanics were lucky to escape unhurt after a Molotov cocktail landed near their car on Wednesday night, Husain played down opposition to the event.
"I can tell you that most people in Bahrain are happy and pleased that F1 is back in Bahrain, given its effects on the economy and the social aspects of it," said Husain, who resigned in protest during last year's anti-government demonstrations.
"Many are happy and pleased. I see this as a sporting and economic event, rather than a political event."
When asked whether the Bahrain GP's push to use the banner 'UniF1ed' to link the event to the political situation was provocative, he said: "Possibly, but definitely the issue - there are some people who are not happy with F1, even in normal times, and some groups were not happy for religious reasons. We can no way have all groups happy, but most people are happy."
Husain predicted that protests would continue throughout the grand prix weekend, and would not end when F1 leaves.
"Protests are definitely going to take place. We have had protests taking place before the event, they will take place during the event and afterwards, but there is no connection."
However, when pushed on the fact that some protests featured anti-F1 sentiment, he said: "I can tell you for sure that it is easy to see, but even if F1 was not here, protests would still be going on, so this is not the reason. For them it is an opportunity to raise awareness."
Husain also played down safety concerns, despite the Force India incident highlighted the difficulties F1 personnel will face in escaping trouble over the weekend.
"Security has never been a big issue in Bahrain," he said. "The protests are very much peaceful; largely people are having political issues which have to be addressed one way or another.
"Even after you guys leave we have some challenges that must be addressed. Bahrain stands out as being uniquely peaceful, we are a tolerant society, we are a society where foreign nationals make up the majority of the population: they make up 52% of the population and 66% of the labour force.
"There are no hate crimes, and people here are very tolerant."