Red Bull will decide on its exhausts strategy over the new few days
| | |
| --- | --- |
| By Jonathan Noble | Monday, April 16th 2012, 11:24 GMT |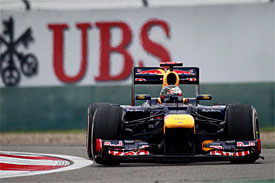 Red Bull will decide in the next few days whether to continue with different exhaust strategies for its drivers at this weekend's Bahrain Grand Prix, after Sebastian Vettel reverted to an older design in China.
The reigning world champion feels more comfortable with the previous exhaust layout on the RB8, even though the team's data shows that the new design that Mark Webber uses is better in terms of overall laptime.
But although longer term Red Bull would like its two drivers to use the same design, the outfit will consider whether it sticks to its China strategy for one more race weekend following detailed analysis by technical chief Adrian Newey.
Team principal Christian Horner said: "We'll make the decision over the next couple of days. With a race's worth of data to go through, there is a good sample there in low fuel, high fuel configurations and so on."
When asked if the two drivers using different designs could be carried over the remainder of the season, Horner said: "Unlikely. We'll focus on getting the best out of one. Ideally you want the best characteristics out of both solutions, so that's now the challenge."
Horner explained that Vettel's preference for the older specification of exhaust was related to his driving style.
"There are some characteristics about the upgraded car that weren't particularly suited to his style of driving, which is to carry a lot of speed into the corner," he said.
"The decision to come here with two different cars was very much Adrian's, and a technical decision, because we want to make sure we get a direction and a clear comparison.
"We've had that; it's been a really useful exercise this weekend. The drivers were happy to go the routes that they had, so now we have got an awful lot of information through three days of running to settle on a direction moving forward."