Michael Schumacher's resurgence is 'great for Formula 1', reckons Mercedes boss Ross Brawn
| | |
| --- | --- |
| By Jonathan Noble and Matt Beer | Sunday, April 15th 2012, 04:42 GMT |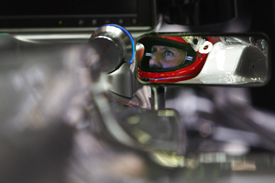 Mercedes team boss Ross Brawn says Michael Schumacher's improved form in 2012 has come as no surprise, and believes the seven-time champion's return to the front will boost Formula 1's popularity.
Schumacher's F1 comeback has at times looked ill-advised, with the German legend yet to get on the podium for Mercedes and regularly beaten by team-mate Nico Rosberg.
But Schumacher has been more competitive this season, outqualifying Rosberg at the opening two grands prix, and then joining his pole-winning compatriot on the front row of the grid for Sunday's Chinese Grand Prix.
"We have been consistent in our belief that Michael can continue to produce the results we have all seen in his career, and it was a fact that we have not had a good enough car," said Brawn.
"It is great for the team, great for him and great for F1. To see Michael Schumacher up there is a great bonus for F1 generally."
Brawn believes there is now more affection for Schumacher among F1 fans than there was when he was dominating the sport in his heyday.
"Michael's second period in F1 seems to be viewed differently by the public," Brawn said. "They are more enthusiastic to see him do well. With the results he had in his first career it became automatic, and like any sport when someone was dominating like Michael was able to, people get used to it and it is not so exciting."
Schumacher's deal with Mercedes runs out at the end of this year, but Brawn said it was too early to speculate whether the current upturn in both the driver and the team's form would prompt a contract extension.
"Everything is completely open," said Brawn. "If it feels right for him and it feels right for us and things are going well, then why would we want to stop?
"But we have a long way to go before we get there. He is a fantastic driver, a fantastic team member but we have to let things take their natural course.
"At some point during the year it will become obvious what is the best for him, best for us and best for us collectively. It won't be a difficult decision I am sure but it is far too early to get into speculation about what it might be."
Brawn added that Rosberg and Schumacher would be free to race each other in China. They share the front row ahead of Sauber's Kamui Kobayashi and Lotus driver Kimi Raikkonen, with the first of the McLarens and Red Bulls back on row three with Jenson Button and Mark Webber.
"The only order we can give is 'make sure you don't hit each other'," said Brawn. "That is all we can do, we have no team orders or team strategy we just want to make sure that they give each other enough room. But they are both great drivers and they have shown before they can manage the situation.
"But sometimes things happen that you cannot control, people hit you from behind or someone cuts across you when you don't expect so things can happen but they are both very good drivers, have huge respect.
"If anything did happen there would be no reason other than it was a genuine accident, so we keep our fingers crossed and rely on them to stay clean in the first two corners."