Klaus Graf and Lucas Luhr claim Long Beach American Le Mans Series victory
| | |
| --- | --- |
| By Mark Glendenning | Sunday, April 15th 2012, 03:19 GMT |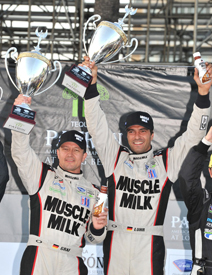 Klaus Graf and Lucas Luhr took an emphatic win in Saturday's American Le Mans Series round on the Long Beach street circuit.
The Muscle Milk/Pickett Racing HPD duo, who started from second on the grid, took the lead for the final time with around 30 minutes left to run and quickly opened a gap over polesitter Chris Dyson, who was sharing his Dyson Racing Lola-Mazda with Guy Smith. The final margin of victory was 43.66 seconds.
Third outright and first of the PC class cars was the CORE Autosport ORECA shared by Alex Popow and Ryan Dalziel, who finished comfortably ahead of Muscle Milk's Memo Gidley and Mike Guash.
LMP2 honours went to Scott Tucker and Christophe Bouchut in their Level 5 Motorsports HPD; their campaign having been helped by rivals Martin Plowman and David Heinemeier Hansson's Conquest entry being called in for a pitlane speeding penalty while sitting in the class lead after its final stop.
The P2 ranks had earlier been decimated when the Black Swan Lola of Jeroen Bleekemolen and Scott Tucker rammed a car that was rejoining the track after a spin on the second lap, prompting the team to fire a broadside at officials over the lack of yellow flags.
A tight battle for the GT win fell the way of Chevrolet duo Oliver Gavin and Tommy Milner, who triumphed after a long tussle with the BMW of Dirk Muller and Joey Hand. The BMW challenge had been diminished early on when the sister car of Jorg Muller and Bill Auberlen lost several laps in the pits with a leaking radiator.
Damien Faulkner and Peter LeSaffre (Green Hornet Racing) claimed the GTC class win by just 3.11s ahead of Alex Job Racing's Leh Keen and Cooper MacNell.
Results - 86 laps:

Pos  Cl   Drivers             Team/Car                    Time/Gap
 1.  P1   Luhr/Graf           Pickett HPD             2h00m05.739s
 2.  P1   Dyson/Smith         Dyson Lola-Mazda           + 43.659s
 3.  PC   Popow/Dalziel       CORE FLM                     + 1 lap
 4.  PC   Guasch/Gidley       Pickett FLM                 + 2 laps
 5.  PC   Bennett/Braun       CORE FLM                    + 2 laps
 6.  GT   Gavin/Milner        Corvette                    + 2 laps
 7.  GT   Hand/Muller         BMW                         + 2 laps
 8.  GT   Sharp/van Overbeek  Extreme Speed Ferrari       + 2 laps
 9.  GT   Magnussen/Garcia    Corvette                    + 2 laps
10.  P2   Tucker/Bouchut      Level 5 HPD                 + 3 laps
11.  GT   Fernandez/Turner    Aston Martin                + 3 laps
12.  GT   Henzler/Sellers     Falken Porsche              + 3 laps
13.  GT   Bergmeister/Long    Flying Lizard Porsche       + 3 laps
14.  GT   Miller/Maassen      Miller Porsche              + 3 laps
15.  P1   Marsal/Lux          Dyson Lola-Mazda            + 3 laps
16.  PC   Marcelli/Downs      Merchant FLM                + 3 laps
17.  P2   Plowman/Hansson     Conquest Morgan-Nissan      + 3 laps
18.  PC   Richard/Ende        Dempsey FLM                 + 4 laps
19.  P2   Tucker/Diaz         Level 5 HPD                 + 5 laps
20.  GT   Neiman/Holzer       Flying Lizard Porsche       + 5 laps
21.  GT   Brown/Cosmo         Extreme SpeedFerrari        + 6 laps
22.  PC   Leitzinger/Junco    PR1 FLM                     + 6 laps
23.  GTC  LeSaffre/Faulkner   Green Hornet Porsche        + 7 laps
24.  GTC  MacNeil/Keen        Alex Job Porsche            + 7 laps
25.  GTC  Cumming/Valiante    JDX Porsche                 + 7 laps
26.  GTC  Sofronas/Welch      GMC Porsche                 + 7 laps
27.  GTC  di Guida/Pumpelly   TRG Porsche                 + 9 laps

Retirements:

     GTC  Faieta/Avenatti     Competition Porsche          74 laps
     GT   Muller/Auberlen     BMW                          71 laps
     PC   Junqueira/Drissi    RSR FLM                      69 laps
     GT   Sweedler/Bell       Alex Job Lotus               57 laps
     PC   Kovacic/Burgess     Merchant FLM                 35 laps
     P2   Pappas/Bleekemolen  Black Swan Lola-HPD            1 lap