Jimmie Johnson glad that NASCAR's technical inspections will be more thorough from Talladega
| | |
| --- | --- |
| By Diego Mejia | Saturday, April 14th 2012, 04:42 GMT |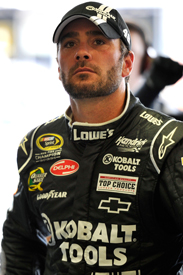 Jimmie Johnson is glad that NASCAR is planning to be more thorough than ever before with its technical inspections, following the controversy over his Daytona 500 car and the penalties initially imposed being overturned.
When Sprint Cup teams compete at Talladega next month, cars will go through a new template during technical inspections as NASCAR seeks to enforce bodywork measurements around the 'C-post' area.
There was controversy last month after Hendrick Motorsports won a second appeal against NASCAR's initial ruling of thar Johnson's Daytona 500 Impala used C-posts that did not conform with the rules. Chief appellate officer John Middlebrook rescinded suspensions to team members and points penalties imposed by NASCAR, only upholding a US $100,000 for Johnson's crew chief Chad Knaus.
Speaking at Texas Motor Speedway on Friday, Johnson said he is glad there will no longer be any grey areas around the parts in question, now that NASCAR has come up with a new template that cars must fit inside at all circuits from Talladega onwards.
"I wasn't aware of that but [am] happy to hear it," said Johnson. "In some ways I'm very happy. I am very happy to hear there will not be grey area there, but it does take away opportunities to work on the race car.
"But that's been a reality we've been faced with; [that] especially crew chiefs have been faced with for quite some time now. I'm absolutely happy to hear there is going to be one there."
"Johnson's team-mate Jeff Gordon, who is listed as the owner of the #48 car, believes NASCAR is simply reacting to having its ruling overturned in the final appeal after Daytona.
"I think what it does show is that there's a process when these cars are inspected and its NASCAR's job to cover every area of the car to keep a level playing field out there and they do a very good job of it," he said.
"Because of the appeal and the way that turned out, I think that it shows that NASCAR wants to make sure that those types of appeals don't get overturned in the future and that was an area that was a little vague."
A NASCAR spokesperson said that despite most penalties being rescinded following the final appeal, the large fine standing for Knaus proved the organising body's point that the car did not conform with the rules.