ALMS qualifying abandoned at Long Beach, Dyson Racing on pole due to championship lead
| | |
| --- | --- |
| By Mark Glendenning | Saturday, April 14th 2012, 03:06 GMT |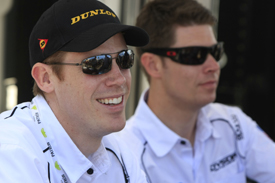 Bad weather forced the American Le Mans Series to abandon its qualifying session at Long Beach on Friday evening, meaning that Dyson Racing duo Chris Dyson and Guy Smith will take pole position based on championship points.
The weather had initially cleared enough for the GT and GTC cars to go out, but the track never dried enough for anyone to set a representative time and was red-flagged before the prototypes had a chance to run.
Michael Valiante set the fastest lap of the afternoon in the GTC class JDX Racing Porsche with a 1m45.508s tour of the Californian street circuit. The Best of the GT cars was Wolf Henzler's 2m44.519s lap in the Falken Porsche 911 GT3 RSR.
The washout means that current LMP1 points leaders Dyson and Smith (Dyson Racing Lola-Mazda) will start from pole ahead of the Pickett Racing HPD shared by Lucas Luhr and Klaus Graf.
The Level 5 Motorsports HPD driven by Christophe Bouchut and Scott Tucker will have the LMP2 class pole, while BMW's Joey Hand and Dirk Muller will have the GT class advantage in their Rahal Letterman Lanigan Racing-run works machine.
CORE Motorsport's Alex Popow and Ryan Dalziel (ORECA) and Alex Job Racing's Leh Keen and Cooper MacNeil (Porsche) will take the PC and GTC honours respectively.
Pos  Cl   Drivers             Team/Car
 1.  P1   Dyson/Smith         Dyson Lola-Mazda
 2.  P1   Luhr/Graf           Pickett HPD
 3.  P1   Marsal/Lux          Dyson Lola-Mazda
 4.  P2   Tucker/Bouchut      Level 5 HPD
 5.  P2   Pappas/Bleekemolen  Black Swan Lola-HPD
 6.  P2   Plowman/Hansson     Conquest Morgan-Nissan
 7.  P2   Tucker/Diaz         Level 5 HPD
 8.  PC   Popow/Dalziel       CORE FLM
 9.  PC   Leitzinger/Junco    PR1 FLM
10.  PC   Bennett/Braun       CORE FLM
11.  PC   Guasch/Gidley       Pickett FLM
12.  PC   Junqueira/Drissi    RSR FLM
13.  PC   Richard/Ende        Dempsey FLM
14.  PC   Marcelli/Downs      Merchant FLM
15.  PC   Kovacic/Burgess     Merchant FLM
16.  GT   Hand/Muller         BMW
17.  GT   Magnussen/Garcia    Corvette
18.  GT   Gavin/Milner        Corvette
19.  GT   Muller/Auberlen     BMW
20.  GT   Miller/Maassen      Miller Porsche
21.  GT   Neiman/Holzer       Flying Lizard Porsche
22.  GT   Brown/Cosmo         Extreme Speed Ferrari
23.  GT   Henzler/Sellers     Falken Porsche
24.  GT   Sharp/van Overbeek  Extreme Speed Ferrari
25.  GT   Bergmeister/Long    Flying Lizard Porsche
26.  GT   Sweedler/Bell       Alex Job Lotus
27.  GT   Fernandez/Turner    Aston Martin
28.  GTC  MacNeil/Keen        Alex Job Porsche
29.  GTC  LeSaffre/Faulkner   Green Hornet Porsche
30.  GTC  Pumpelly/di Guida   TRG Porsche
31.  GTC  Cumming/Valiante    JDX Porsche
32.  GTC  Faieta/Avenatti     Competition Porsche
33.  GTC  Sofronas/Welch      GMC Porsche