Martin Truex Jr takes pole for NASCAR Sprint Cup race at Texas
| | |
| --- | --- |
| By Diego Mejia | Saturday, April 14th 2012, 01:51 GMT |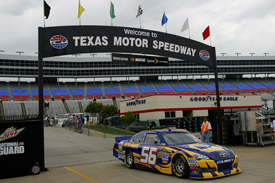 Martin Truex Jr claimed Michael Waltrip Racing's second pole position of the season in qualifying for Saturday's NASCAR Sprint Cup race at Texas.
Truex bumped Brad Keselowski's Penske Dodge from the top spot with a lap of 28.366s. His benchmark stood unbeaten despite both Roush Fenway Ford drivers Matt Kenseth and Greg Biffle and Truex's MWR Toyota team-mate Mark Martin also breaking the 190mph barrier.
The MWR pole of 2012 continues an upwards trend for the squad, which has its two full-time drivers sitting inside the top 10 of the Sprint Cup points table after six races.
Truex, third in the championship, said: "It means a lot for me to get a pole for this guys.
"This is early but we've come a long way. We're starting to gel as a team, we're starting to get to where we want to be. We're not there yet, but this is a good step in that direction and hopefully we'll be standing over here in Victory Lane shooting guns tomorrow [Saturday] night."
Behind the MWR and Roush duos on the front two rows, Hendrick Motorsport's Kasey Kahne was fifth and the fastest Chevrolet driver, followed by Martinsville winner Ryan Newman (Stewart Haas), Richard Petty Ford's Marcos Ambrose and Keselowski. Earnhardt Ganassi's Jamie McMurray and Hendrick's Jimmie Johnson rounded out the top 10 in their Chevrolets.
Wood Brothers' Trevor Bayne had been fastest in the final practice ahead of qualifying and ended up as the best of the non-guaranteed starters in 19th, right ahead of three-time Texas winner Carl Edwards (Roush).
Reigning champion Tony Stewart, the most recent Sprint Cup winner at Texas, had a difficult Friday after hitting the wall early into practice, being forced to a back up car. His Stewart Haas team took a fresh engine ahead of qualifying, so he will start back in 29th.
Track conditions were affected by strong winds all day. These winds, which affected the handling of most cars through Turns 3 and 4, are expected to pick up even more on race day.
David Stremme, Joe Nemechek and Stacy Compton failed to make the field.
Pos  Driver              Team/Car                     Time     Gap
 1.  Martin Truex Jr     Waltrip Toyota               28.366s
 2.  Matt Kenseth        Roush Fenway Ford            28.399s  + 0.033s
 3.  Greg Biffle         Roush Fenway Ford            28.403s  + 0.037s
 4.  Mark Martin         Waltrip Toyota               28.418s  + 0.052s
 5.  Kasey Kahne         Hendrick Chevrolet           28.476s  + 0.110s
 6.  Ryan Newman         Stewart-Haas Chevrolet       28.497s  + 0.131s
 7.  Marcos Ambrose      Petty Ford                   28.591s  + 0.135s
 8.  Brad Keselowski     Penske Dodge                 28.514s  + 0.148s
 9.  Jamie McMurray      Earnhardt-Ganassi Chevrolet  28.527s  + 0.161s
10.  Jimmie Johnson      Hendrick Chevrolet           28.529s  + 0.163s
11.  Paul Menard         Childress Chevrolet          28.559s  + 0.193s
12.  AJ Allmendinger     Penske Dodge                 28.568s  + 0.202s
13.  Denny Hamlin        Gibbs Toyota                 28.589s  + 0.223s
14.  Joey Logano         Gibbs Toyota                 28.601s  + 0.235s
15.  Kevin Harvick       Childress Chevrolet          28.624s  + 0.258s
16.  Dale Earnhardt Jr   Hendrick Chevrolet           28.656s  + 0.290s
17.  Kyle Busch          Gibbs Toyota                 28.678s  + 0.312s
18.  Clint Bowyer        Waltrip Toyota               28.679s  + 0.313s
19.  Trevor Bayne        Wood Brothers Ford           28.695s  + 0.329s
20.  Carl Edwards        Roush Fenway Ford            28.730s  + 0.364s
21.  David Ragan         Front Row Ford               28.743s  + 0.377s
22.  Casey Mears         Germain Ford                 28.752s  + 0.386s
23.  Aric Almirola       Petty Ford                   28.762s  + 0.396s
24.  Jeff Burton         Childress Chevrolet          28.773s  + 0.407s
25.  Juan Pablo Montoya  Earnhardt-Ganassi Chevrolet  28.794s  + 0.428s
26.  Regan Smith         Furniture Row Chevrolet      28.832s  + 0.466s
27.  Kurt Busch          Phoenix Chevrolet            28.849s  + 0.483s
28.  Landon Cassill      BK Toyota                    28.860s  + 0.494s
29.  Tony Stewart        Stewart-Haas Chevrolet       28.878s  + 0.512s
30.  Bobby Labonte       JTG Daugherty Toyota         28.880s  + 0.514s
31.  David Reutimann     Baldwin Chevrolet            28.929s  + 0.563s
32.  Josh Wise           Front Row Ford               28.976s  + 0.610s
33.  Michael McDowell    Parsons Ford                 29.044s  + 0.678s
34.  Jeff Gordon         Hendrick Chevrolet           29.094s  + 0.728s
35.  David Gilliland     Front Row Ford               29.094s  + 0.728s
36.  JJ Yeley            Robinson-Blakeney Toyota     29.104s  + 0.738s
37.  Travis Kvapil       BK Toyota                    29.159s  + 0.793s
38.  Scott Speed         Leavine Family Ford          29.170s  + 0.804s
39.  Reed Sorenson       FAS Lane Ford                29.217s  + 0.851s
40.  Scott Riggs         R3 Chevrolet                 29.229s  + 0.863s
41.  Dave Blaney         Baldwin Chevrolet            29.464s  + 1.098s
42.  Tony Raines         Childress Chevrolet          29.699s  + 1.333s
43.  Mike Bliss          Humphrey-Smith Toyota        29.232s  + 0.866s

Did not qualify:
     David Stremme       Inception Toyota             29.234s  + 0.868s
     Joe Nemechek        NEMCO Toyota                 29.288s  + 0.922s
     Stacy Compton       Turn One Chevrolet           29.828s  + 1.462s