Ferrari says Chinese Grand Prix upgrades a step forward
| | |
| --- | --- |
| | Friday, April 13th 2012, 09:53 GMT |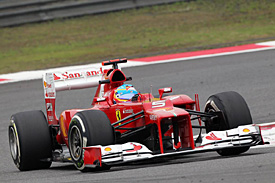 Ferrari technical director Pat Fry says the upgrades the team has brought to Shanghai are a step forward - but that this will not be apparent in the Chinese Grand Prix as the circuit characteristics do not suit the F2012.
Although Fernando Alonso leads the world championship thanks to his surprise Malaysian GP victory, Ferrari has struggled for pace in dry conditions all year.
It accelerated its upgrade programme to fit new parts for China, but Fry warned that the team was still unlikely to qualify above the lower part of the top 10.
"We have brought some updates here for the F2012 which should provide an improvement in terms of performance, compared to the first two races," he said.
"The first evaluation that we can make after these three hours of free practice is a positive one, but clearly we have hours of work ahead of us this afternoon and tonight to complete an in-depth analysis. On the other hand, we cannot ignore the fact that the characteristics of this track seem to be less suited to our car than Malaysia.
"Taking these two factors into consideration, I am not expecting anything new in terms of our positions on the grid. At the moment, our realistic expectation is somewhere between seventh and 12th place, as indeed we were in Sepang.
"However, we have to bear in mind that it's all very close, so it only takes the slightest thing - a mistake, a less than perfect lap – to make for a significant change of position, either upward or downward."
Fry called for patience from Ferrari's fans as it tries to pull itself out of its current troubles.
"To those who ask me when we will see a Ferrari fighting for pole position, I can only reply there is no magic button we can press to improve the situation in one go," he said.
"We need to push in many areas, starting with the aerodynamics which is still the decisive factor in today's Formula 1, while not forgetting our work methods, in order to get the results in the short term, but especially in the long term."
Alonso and Felipe Massa were 10th and 17th in practice on Friday, with the latter saying he would have been closer to his team-mate had he not been disrupted by Marussia driver Timo Glock's crash.
"When I was on my first run on the soft tyres, Glock went off the track at Turn 1 and I was forced to pit again," said Massa. "This meant I was unable to get the most out of this set of tyres and significantly improve my time.
"I am sure that it would have been much faster than the one posted on the classification. That bothers me a bit because I did not manage to use the soft tyres in the way I should have done."