Bernie Ecclestone calls for Bahrain GP speculation to stop as he confirms event will go ahead
| | |
| --- | --- |
| By Jonathan Noble | Friday, April 13th 2012, 05:56 GMT |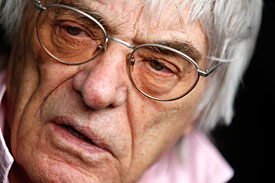 Bernie Ecclestone thinks it is now time to stop speculation about the Bahrain Grand Prix, after he reassured Formula 1 team bosses on Friday that the event would be totally safe.
F1's commercial rights holder held a meeting with team principals in the Shanghai paddock to talk about the Bahrain situation - with the FIA having confirmed earlier in the day that the race will be going ahead.
Speaking to reporters after the meeting, Ecclestone said that there were no issues or concerns about Bahrain.
"Everybody's happy," said Ecclestone. "We haven't got any problems. It's a problem being discussed by the media. They don't have any idea what's going on. That's the problem.
"This race is on the calendar, and has been on the calendar for quite a long time, and we will be there. All the teams are happy to be there."
Ecclestone said there was no point in trying to second guess what protestors may try and do to disrupt the event.
"The national sporting authority will keep us informed as to what is happening. There's nothing happening. I know people who live there and it's all very quiet and peaceful.
"There has been enough speculation and things said, and I think it was a good thing to put something out. I suppose the right thing to do is to stop speculating and wait and see, then we will deal with the matter when it arises."