Lotus will not appeal stewards' decision on Mercedes rear wing
| | |
| --- | --- |
| By Jonathan Noble | Thursday, April 12th 2012, 14:20 GMT |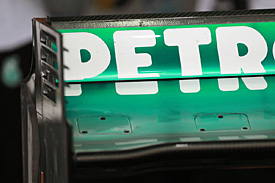 Lotus has elected not to appeal against the FIA stewards' decision that the Mercedes DRS system is legal, after its protest about the design was rejected on Thursday night.
Following a lengthy meeting in the Shanghai paddock between the FIA and representatives of the Lotus and Mercedes teams, the four race stewards at the Chinese Grand Prix threw out the protest that had been lodged earlier in the day.
Although Lotus was reminded of its right to appeal the decision, sources at the team have confirmed to AUTOSPORT that it will not challenge the ruling - which means that the team must now decide if it is worth devoting resources to create its own version of the double DRS.
In a lengthy report issued afterwards by the stewards explaining their decision, they said that they had reached their verdict on several grounds.
They believe that the 'double DRS' system was within the regulations because it was completely passive - and was not influenced by driver movement but "indirectly (and not directly) consequential to the movement of the driver adjustable bodywork."
Mercedes had also successfully argued that many rival teams had modified bodywork on their cars to enhance the effects of DRS - and that its concept of flowing air through the endplate and down the car to stall the front wing was just another example of this.
The stewards also made it clear that the fact that Mercedes had sought clarification about the design from the FIA before the start of the season was important.
The statement said: "Further, and distinct from the grounds above, the protest is dismissed on the grounds that the FIA confirmed the assertion of the Mercedes team that it had, in accordance with Article 2.4 and/or 2.5 of the F1 Technical Regulations, sought clarification from the FIA Formula One Technical Department concerning this matter and the FIA confirmed that the Mercedes design had been deemed permissible."