Vettel to use older exhaust layout in practice for the Chinese Grand Prix
| | |
| --- | --- |
| By Jonathan Noble | Thursday, April 12th 2012, 11:18 GMT |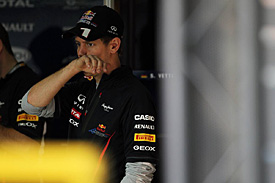 Sebastian Vettel will revert to an older specification of exhaust layout for first practice at the Chinese Grand Prix as his Red Bull Racing team aims to unlock more pace from the RB8.
The reigning world champions introduced a Sauber-style exhaust layout for the final two days of pre-season testing at Barcelona, but Vettel has not been as happy with that configuration as the version used at the beginning of testing.
Although the team is convinced that the update package delivers an improvement in laptime, it has elected to experiment with a different configuration for Vettel in Shanghai on Friday to try and understand the situation better.
While Vettel will run the design that blows the exhausts over the beam wing, team-mate Mark Webber will run with an updated version of the concept that uses the exhausts to channel blown air around the rear area of the car and down on to the floor.
Red Bull Racing team principal Christian Horner said that with no opportunity to test the two concepts side-by-side, the only chance was to run them in China practice.
"We will be conducting some evaluation work between the two cars," explained Horner. "With testing not allowed during the season, Friday is the best opportunity to do some track testing and we are using the opportunity to look at an earlier iteration of exhaust and a further iteration of what we ran in Malaysia.
"Obviously we will then look at the data and then draw our own conclusions from there."
Horner added that he expected the data to show that the version run by Webber is better - but the team was not yet 100 per cent convinced.
He also confirmed that it would be possible for the team to switch Vettel's exhaust configuration to the newer version for Saturday morning if it was deemed better, but there would be no plan for Webber to revert back to the older concept if it shows some advantage for his world champion team-mate.