Group Lotus says it remains committed to Formula 1
| | |
| --- | --- |
| | Wednesday, April 11th 2012, 16:37 GMT |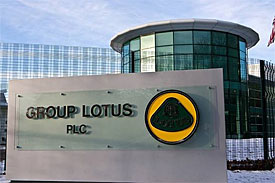 Group Lotus insists that it remains committed to Formula 1 until at least 2017 despite the recent change to the terms of its sponsorship deal with the Lotus F1 team.
A Lotus statement issued today claims that under the "reshaped" commercial relationship, it continues to be the title partner of the ex-Renault outfit despite the team now searching for new sponsorship income.
The team had previously confirmed that it would continue to carry the Lotus name in F1.
"Lotus F1 team and Group Lotus reshaped their commercial relationship earlier this year," said Group Lotus in a statement in which it criticised rumours about the company.
"The new governance agreement signifies the continued commitment of Group Lotus to the team and the sport.
"Group Lotus' branding and marketing rights and subsequent activities remain unaffected by the new agreement until at least 2017.
"Alongside continued branding and title partnership status, Group Lotus is also the exclusive master licensee for all Lotus F1 Team merchandise."
The statement also revealed that Group Lotus owner Proton it still has the right to purchase 10 per cent of the team, with a further 10 percent also available if the team defaults on repayments on a £30 million loan that forms part of the agreement.
"The new agreement was reached following Group Lotus owners Proton providing team owners Genii with a £30m loan which is repayable within three years.
"In order to secure the loan Genii used 100 per cent of the F1 team's assets as collateral meaning that under the conditions of the loan agreement Proton have been given full title guarantee to all plant, machinery, show cars, computers, office and the Lotus F1 Team headquarters.
"In addition Proton retains the rights to purchase 10% of the F1 team. Another 10% share option will be activated if the team default on their loan obligations with Proton."
The statement also hit out at Caterham F1 team owner Tony Fernandes and its technical chief Mike Gascoyne.
"You can thank good old Tony Fernandes for these two. Don't take everything he tweets too seriously - perhaps he's still frustrated about owning Caterham instead of Lotus and the fact that he fights HRT and Marussia instead of Mercedes and Ferrari in F1," the statement read.