Brawn still has faith in Mercedes car despite disapointing results in first two F1 races
| | |
| --- | --- |
| By Jonathan Noble | Thursday, April 5th 2012, 11:12 GMT |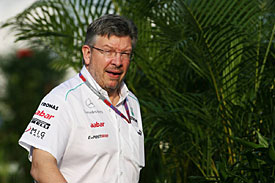 Ross Brawn has faith that Mercedes has a car that is capable of delivering strong results this season, despite its struggles in the first two grands prix of the year.
The Brackley-based outfit has delivered just a single point from Australia and Malaysia after being unable to carry through its qualifying form into the races.
But after understanding that it overheated its tyres in Australia, and failed to get them up to the right temperature in Malaysia, Brawn thinks that getting a grip on that matter will be enough for it to finally enjoy good results.
"We have too narrow a window in which we are operating the car - and we have to broaden that, and build more tolerance into how we are using the tyres," explained Brawn.
"When we encounter challenges like this, we look at all areas of the car and we challenge ourselves collectively to find the solutions we need. But our qualifying speed tells us that the fundamentals of performance are there: you can't do the lap times if you don't have enough downforce, horsepower or a good chassis."
Brawn has denied suggestions that Mercedes has focused too much on producing a car that is quick for qualifying at the expense of its pace over a race distance.
"Our objective is to build the best car we can for the race - and our qualifying performances are a consequence of that," he said. "Nothing has been consciously done to focus on making the car quick in qualifying, and not so good in the race, because under the current rules - with DRS and the number of pitstops - there are no real rewards for doing so.
"Using the tyres properly is vital for success, and it depends on a number of factors, including set-up, the downforce the car is generating and the drivers' approach. Within the set-up variations we can choose, we have the opportunity to find the right solution. But it's a learning process, and we missed the mark at the first two races."