Andreas Mikkelsen says having to borrow Juho Hanninen's co-driver for Ireland test no problem
| | |
| --- | --- |
| By David Evans | Tuesday, April 3rd 2012, 14:23 GMT |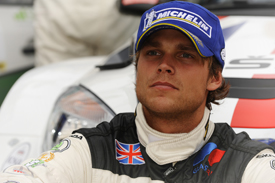 Andreas Mikkelsen says switching co-drivers for his pre-Circuit of Ireland Rally test on Monday has not affected his preparations for round three of the Intercontinental Rally Challenge this week.
Juho Hanninen's co-driver Mikko Markkula accompanied Mikkelsen during the test south of Aughnacloy in Ireland after his regular navigator Ola Floene delayed his departure from his native Norway to recover from a bout of 'flu.
Mikkelsen and Markkula used a 2.8-kilometre test road and covered 165 kilometres during their test, which started in wet conditions but finished in the dry. They also did some running in the dark in preparation for the Circuit of Ireland's night stages on Friday.
"The pace notes were in English but there was no problem, Mikko is a very good driver and I have to say thank you to Juho and Skoda Motorsport for helping us out," said Mikkelsen. "Ola is now in Ireland, he's not 100 per cent but he will be fine for the rally."
Mikkelsen, who spent much of Monday's test finalising damper and differential settings, is running again on Tuesday on a 2.9-kilometre test road south west of Monaghan in the Republic of Ireland.
Factory Skoda drivers Hanninen, Jan Kopecky and Skoda Germany's Sepp Wiegand will also be testing at the same location.