David Reutimann apologises for late Martinsville caution that led to chaos
| | |
| --- | --- |
| By Diego Mejia | Monday, April 2nd 2012, 08:29 GMT |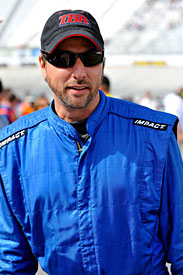 David Reutimann apologised for causing the last-minute caution which triggered chaos in Sunday's Sprint Cup race at Martinsville, after Hendrick Motorsports drivers had looked poised to claim a milestone 200th victory for the elite squad.
Reutimann had been black-flagged as he ran off the pace in the closing laps while trying to make it to the finish, but his car eventually stopped three laps from the end just as a side-by-side battle for the lead was unfoldding between Hendrick drivers Jeff Gordon and Jimmie Johnson.
The restart following the caution then involved a multi-car incident ignited by contact between the top-three runners, Gordon, Johnson and Michael Waltrip Racing's Clint Bowyer, who launched a late move on the Hendrick duo.
"Number one, I just hate it," explained Reutimann. "I don't even know how the race ended up finishing, but I just hate that I was involved in anything that changed the complexion of the race so I have to apologise to the guys that it affected. It broke a tie rod or something like that.
"I was just trying to limp around there. We needed to finish next couple of laps to try to stay in the top 35. Then the motor had been breaking up for the last couple of laps. It broke a timing belt or whatever down the back straightaway, and the motor just quit.
"I would not have stopped on the freaking racetrack. I would have limped it around there and come to pit road, which is what I was trying to do. The thing quit going down the back straightaway, and it shut off. I just didn't stop there intentionally.
"I know it sucks. I hate it for everybody that it affected, but I mean I can't get out and push the thing. You know, it shut off. It's that simple."
Reutimann was called by officials to the NASCAR hauler following the race but no penalties have been issued.
Reutimann's #10 car entered the race in 34th place in the owner standings, and he was trying to secure a finish that allowed him to retain his position. Drivers outside the top-35 will need to qualify on time for the next Sprint Cup Series event, while those inside the cut have their start guaranteed.
Despite his best efforts, he will need to qualify on time in two-week's time at Texas, as his car is now 36th in the owner standings.
Danica Patrick is set to get behind the wheel of the same car next month at Darlington, and while her start for the Daytona 500 was guaranteed, Reutimann will need solid finishes in coming races to prevent Patrick from having to qualify on speed for her next Cup event.