Tonio Liuzzi takes maiden Superstars race win on debut weekend at Monza
| | |
| --- | --- |
| By Andrew van Leeuwen | Sunday, April 1st 2012, 15:00 GMT |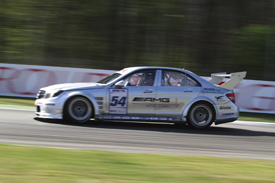 Tonio Liuzzi soared into Superstars title favourte status with an impressive win in the second race of the season at Monza.
With the top eight finishers from race one reversed for the start of race two, Liuzzi found himself sixth on the grid. But the Mercedes driver did not stay there long, surging through to second in the first few corners before passing polesitter Domenico Caldarola into the Parabolica towards the end of the first lap.
Once in front Liuzzi was able to control the race, particularly following the demise of Mika Salo. The Finn had looked to be the only driver in the field capable of running with Liuzzi, and sat second for most of the race. But with eight of the 25 minutes remaining his Maserati had a rear-right wheel problem, sending Salo into a wild spin and out of the race.
Salo's misfortune worked into the hands of race one winner Max Pigoli, who made a late charge into second place in the closing laps of the race. Francesco Sini was third, another driver to seemingly appear from nowhere in the last few laps to grab an unlikely podium.
Series stalwarts Thomas Biagi and Gianni Morbidelli finished fourth and fifth respectively, while Caldarola had to settle for sixth after being punted off the road by Andrea Larini on the third lap. Larini was handed a drive-through for his troubles, but still managed to finish seventh.
Stefano Gabellini finished eighth, ahead of 17-year-old debutant Andrea Boffo and Mauro Cesari in the second Maserati.
Results - 13 laps:

Pos  Driver                Team/Car               Time/Gap
 1.  Tonio Liuzzi          CAAL Mercedes        26m58.452s
 2.  Max Pigoli            Ferlito Jaguar         + 1.153s
 3.  Francesco Sini        Solaris Chevrolet      + 1.602s
 4.  Thomas Biagi          Dinamic BMW            + 3.190s
 5.  Gianni Morbidelli     Audi Italia            + 3.219s
 6.  Nico Caldarola        Roma Mercedes          + 4.816s
 7.  Andrea Larini         Romeo Mercedes         + 5.468s
 8.  Stefano Gabellini     Dinamic BMW            + 8.996s
 9.  Andrea Boffo          Roma Mercedes          + 9.391s
10.  Mauro Cesari          Swiss Maserati        + 14.505s
11.  Walter Meloni         W&D BMW               + 21.687s
12.  Leonardo Baccarelli   Todi BMW              + 22.243s
13.  Andrea Perlini        Giudici BMW           + 45.792s

Did not finish:

     Max Mugelli           Mercedes                11 laps
     Paolo Meloni          W&D BMW                 10 laps
     Mika Salo             Swiss Maserati           8 laps
     Thomas Schoffler      Audi Italia              5 laps
     Johan Kristoffersson  Kristoffersson Audi       1 lap
     Gian Maria Gabbiani   Ferlito Jaguar            1 lap
     Niccolo Mercatali     MRT Chrysler             0 laps
     Sandro Bettini        Dinamic BMW              0 laps