Max Pigoli fends off Andrea Larini to win Superstars race one at Monza
| | |
| --- | --- |
| By Andrew van Leeuwen | Sunday, April 1st 2012, 10:57 GMT |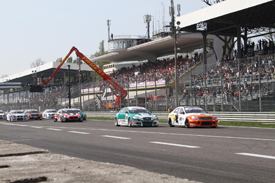 Max Pigoli drew first blood in the 2012 International Superstars Series by winning race one at Monza.
The Jaguar driver started from pole position and led every lap of the 30-minute race. But it was not as straightforward as that, with Andrea Larini pressuring the leader throughout the race, the final margin between the two standing at just 0.4 seconds.
Tonio Liuzzi finished third after what was undoubtedly the drive of the race. The ex-Formula 1 driver started on the 11th row of the grid thanks to a gearbox problem in Saturday's qualifying session. He charged through the field in the CAAL Racing Mercedes, finishing just 1.2s behind the leader.
Even more impressive was that Liuzzi was up to ninth by the end of the first lap, and sat in sixth when the safety car emerged mid-race after Riccardo Bossi hit the wall at the exit of the first Lesmo.
While Thomas Biagi finished fourth in the underpowered BMW, Johan Kristofferson was another big mover, proving the pace of the brand new Audi RS5 by coming from 14th on the grid to finish fifth. Gianni Morbidelli had a similar run through the field in the other RS5, coming from second last on the grid to finish seventh, with Mika Salo sandwiched between the two Audis.
Domenico Caldarola, Paolo Meloni and Massimiliano Mugelli rounded out the top 10.
Bossi's crash was not the only incident during the race, with the fast-starting Gian Maria Gabbiani and Francesco Sini clashing on lap one. Gabbiani ended up in the gravel, while Sini retired shortly after with a punctured tyre.
The second and final Superstars race of the weekend will be held later on Sunday.
Results - 13 laps:

Pos  Driver                Team/Car              Time/Gap
 1.  Max Pigoli            Ferlito Jaguar      28m35.422s
 2.  Andrea Larini         Romeo Mercedes        + 0.414s
 3.  Tonio Liuzzi          CAAL Mercedes         + 1.243s
 4.  Thomas Biagi          Dinamic BMW           + 3.671s
 5.  Johan Kristoffersson  Audi Italia           + 3.699s
 6.  Mika Salo             Swiss Maserati        + 3.969s
 7.  Gianni Morbidelli     Audi Italia           + 7.010s
 8.  Nico Caldarola        Roma Mercedes         + 8.823s
 9.  Paolo Meloni          W&D BMW              + 24.276s
10.  Max Mugelli           CAAL Mercedes        + 26.918s
11.  Sandro Bettini        Dinamic BMW          + 31.037s
12.  Thomas Schoffler      Audi Italia          + 34.137s
13.  Walter Meloni         W&D BMW              + 43.780s
14.  Leonardo Baccarelli   Todi BMW             + 46.135s
15.  Marco Fumagalli       Giudici BMW        + 1m58.564s

Did not finish:

     Mauro Cesari          Swiss Maserati          9 laps
     Stefano Gabellini     Dinamic BMW             8 laps
     Niccolo Mercatali     MRT Chrysler            8 laps
     Andrea Boffo          Roma Mercedes           7 laps
     Riccardo Bossi        Giudici BMW             3 laps
     Francesco Sini        Solaris Chevrolet       2 laps
     Gian Maria Gabbiani   Ferlito Jaguar          0 laps
     Simone Monforte       MRT Lexus               0 laps
     Francesco Ascani      Todi BMW                0 laps