Max Pigoli earns Monza Superstars pole
| | |
| --- | --- |
| By Andrew van Leeuwen | Saturday, March 31st 2012, 16:04 GMT |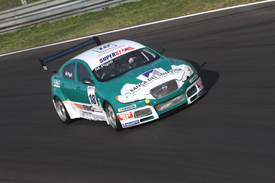 Jaguar driver Max Pigoli secured pole position for Sunday's first International Superstars Series race at Monza.
The Italian was the only driver to break into the 1m55s bracket, setting the benchmark time of 1m55.962s with nine minutes remaining in the half-hour session. Once on top, he stayed there, with the rest of the field left scrambling for second place.
The scrap for second ended up going the way of Andrea Larini, who had a frenetic session. With 11 minutes to go the Mercedes driver was fastest, only to be quickly bumped out of the top three before securing a front row start with a desperate 1m56.183s lap with just three minutes of the session remaining.
Larini's late lap bumped Thomas Biagi from the front row, the BMW pilot having to settle for third. Mika Salo was just 0.07s back in the Maserati, the versatile Finn making it four different makes in the first four spots on the grid.
Stefano Gabellini was fifth ahead of Roma Racing Team drivers Andrea Boffo and Nico Caldarola, while Gian Maria Gabbiani, Francesco Sini and Max Mugelli rounded out the top 10.
Salo was the only ex-Formula 1 driver to enjoy an uninterrupted session, with Tonio Liuzzi's maiden Superstars qualifying experience over before it started. His Mercedes ground to a halt near Ascari before he had a chance to set a flying lap, leaving him stranded on the side of the circuit and the bottom of the timesheets.
Gianni Morbidelli did not fare any better, the three-time Superstars champion spending the session in the pits with a suspected electrical problem.
Morbidelli was not the only Audi driver to have problems. His team-mate Johan Kristofferson also failed to set a flying lap time, the Swede's RS5 stopping each time he attempted a qualifying run.
Pos  Driver                Team/Car             Time       Gap
 1.  Max Pigoli            Ferlito Jaguar       1m55.962s
 2.  Andrea Larini         Romeo Mercedes       1m56.183s  + 0.221s
 3.  Thomas Biagi          Dinamic BMW          1m56.509s  + 0.547s
 4.  Mika Salo             Swiss Maserati       1m56.516s  + 0.554s
 5.  Stefano Gabellini     Dinamic BMW          1m56.669s  + 0.707s
 6.  Andrea Boffo          Roma Mercedes        1m56.676s  + 0.714s
 7.  Nico Caldarola        Roma Mercedes        1m56.864s  + 0.902s
 8.  Gian Maria Gabbiani   Ferlito Jaguar       1m56.935s  + 0.973s
 9.  Francesco Sini        Solaris Chevrolet    1m57.515s  + 1.553s
10.  Max Mugelli           CAAL Mercedes        1m57.768s  + 1.806s
11.  Thomas Schoffler      MTM Audi             1m58.271s  + 2.309s
12.  Mauro Cesari          Swiss Maserati       1m58.294s  + 2.332s
13.  Paolo Meloni          W&D BMW              1m58.333s  + 2.371s
14.  Johan Kristoffersson  Kristoffersson Audi  1m59.456s  + 3.494s
15.  Niccolo Mercatali     MRT Chrysler         1m59.663s  + 3.701s
16.  Walter Meloni         W&D BMW              2m00.528s  + 4.566s
17.  Sandro Bettini        Dinamic BMW          2m01.827s  + 5.865s
18.  Riccardo Bossi        Giudici BMW          2m02.618s  + 6.656s
19.  Leonardo Baccarelli   Todi BMW             2m02.907s  + 6.945s
20.  Marco Fumagalli       Giudici BMW          2m05.773s  + 9.811s
21.  Simone Monforte       MRT Lexus            2m07.914s  + 11.952s
22.  Tonio Liuzzi          CAAL Mercedes