Karthikeyan says it is time to move on from spat with Vettel after Malaysian GP crash
| | |
| --- | --- |
| By Jonathan Noble | Friday, March 30th 2012, 08:40 GMT |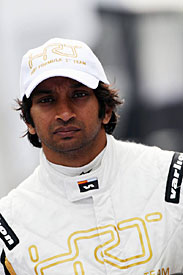 Narain Karthikeyan thinks it is now time to move on from his public spat with Sebastian Vettel over their collision in Malaysia - as he is keen to put the matter to bed.
The Indian and his German rival have dominated headlines since Sunday's race at Sepang after criticising each other in the wake of their incident, where Vettel suffered a puncture after clipping his rival's front wing as he was lapping him.
Vettel labelled Karthikeyan an 'idiot' and a 'cucumber' for the way he drove, while the HRT driver later hit back and accused the world champion of being a 'cry baby' over his comments.
The Malaysian Grand Prix stewards penalised Karthikeyan for having caused the collision.
With the soap opera between the pair dominating headlines around the world, Karthikeyan has now called for the matter to be closed - as he thinks his time will be better spent focusing on the next race.
"I am amazed by the reaction in the media, but I think everyone has to calm down now," Karthikeyan told AUTOSPORT. "I think we have to deal with it in a mature way and forget about it."
Although Karthikeyan remains unimpressed at the way in which Vettel accused him over their clash - which a number of rivals believe was simply a racing incident – he stands firm that he did nothing wrong in their coming together.
"At the end of the day, you don't want to get in the way of other drivers – and when you are driving a slow car and being a backmarker you cannot afford to do these things.
"But these were exceptional circumstances and no one could do anything to avoid what happened. Jenson [Button] collided with me, came out afterwards and said that he had locked up and it was a racing incident. Nobody does these things on purpose.
"I have a lot of respect for Seb's driving abilities and that is it. I want to put this all behind me now, and just focus on me."
Karthikeyan said he had no plans to go and seek out Vettel at the next race in China, and thinks it would be better if the pair just simply got on with their own jobs.
"What's the point?" he said when asked if would speak to Vettel. "He has done his bit, and I have done my bit. We just have to respect each other. He will be running at the front, and we are not going to run at the front. Both of us have to get on with our job."
Despite wishing to draw a line under the matter, Karthikeyan has still expressed some surprise at the level of criticism he received from Vettel.
"There are five other world champions on the grid who have been through a lot, and been through bad times, but none of them reacted like that," he said. "In my opinion it was a racing incident."