NASCAR Sprint All-Star race gets adjusted format
| | |
| --- | --- |
| By Diego Mejia | Wednesday, March 28th 2012, 08:38 GMT |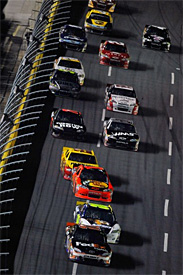 The 2012 NASCAR Sprint All-Star race will feature a revised format, rewarding the winners of each segment plus putting a premium on strategy before the final sprint.
The event will be run over 90 laps split first into four 20-lap segments, where the leader at the end of each one will be allowed a place among the top-four in the order when the field makes a final mandatory pitstop that will dictate restarting positions for the final 10-lap sprint.
The driver leading after the first segment will get first place in the order before that final stop, ahead of the leader at the end of the second, third and fourth segments respectively. In the event of a driver leading at the end of two or more segments, the second-placed driver will get the top-four spot for that crucial last stop.
Once in the pits, teams will be free to choose which strategy suits their chances better, either seeking track position or maximum performance for the last 15 miles that will give the winner a US $1 million cheque.
"This new addition to the format is going to provide even greater incentive for the drivers to go all out to win one of the four segments," said NASCAR's Robin Pemberton.
"It also puts even more focus on the pit crews and how they perform during that final pit stop. The team aspect of the sport will be highlighted more than ever and it helps set the stage for an exciting race and an exciting evening for the fans."
Drivers eligible for the All-Star Race are race winners from 2011 and 2012, past event and Sprint Cup Series champions over the last 10 years, plus the top-two finishers of the Sprint Showdown, a two-segment, 40-lap race that takes place before the main event. An additional driver will make the field through the Sprint Fan Vote.
Pit selection for the race will be decided based upon results of the Pit Crew challenge, which takes place on the Thursday before the All-Star race.