Formula 1 could move young driver test to Silverstone
| | |
| --- | --- |
| By Edd Straw and Jonathan Noble | Tuesday, March 27th 2012, 10:58 GMT |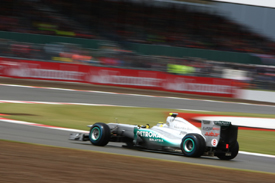 Formula 1 teams are weighing up the idea of running this year's young driver test at Silverstone in the week after the British Grand Prix, AUTOSPORT has learned.
The annual three-day run has taken place for the past two years, and is a chance for teams to try out young talent that would not otherwise get the opportunity to drive F1 machinery.
Although the original idea was for the test to take place at the end of the season, as it did in 2010, last year it happened after the penultimate event in Abu Dhabi because teams did not want to stay on in Brazil after the finale.
A repeat of that this year has met some resistance, however, because of concerns about staffing fatigue at the end of year run-in.
The structure of the calendar this year means that Abu Dhabi takes place a fortnight before the United States Grand Prix, which would effectively mean team members would have to work for five consecutive weeks.
One idea that has received some support is to try and shift the young driver test to take place at Silverstone immediately after the British GP. However not all teams are in favour because of the difficulty of sorting out drivers at that stage of the campaign.
Force India deputy team principal Robert Fernley said: "Everybody wants to have the young driver test. But if we do it in Abu Dhabi we are putting the pressure on the crew because it will be five weeks away with no stop. If we do it at Silverstone, then the argument could be: have we seen who we want to test from the other series?
"We need a bit more discussion with the team managers to see what we do now."
Silverstone last held an official Formula 1 test in June 2008, with Lewis Hamilton setting the pace for McLaren over three days.