Perez not getting carried away with brilliant drive to second in Malaysian Grand Prix
| | |
| --- | --- |
| By Jonathan Noble | Tuesday, March 27th 2012, 09:05 GMT |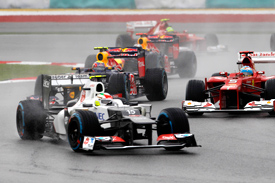 Sergio Perez is not get carried away with his brilliant performance in the Malaysian Grand Prix, but still thinks his maiden victory could be just around the corner.
The Sauber driver challenged Fernando Alonso hard for a race win in Sepang, but lost his chance when he ran wide near the end of the race - handing his Ferrari rival enough of a buffer at the front to hold on until the chequered flag.
But although he was the quickest man on track in Sepang, Perez does not believes this marks the start of a regular push for victory at forthcoming races.
"The target is to keep improving our overall performance and the car," he explained. "We have to push hard and, of course, we have to stay realistic.
"Although the pace in the race was good we should not forget that this result came after a very special race in extraordinary conditions.
"Ultimately I always wanted to win races and I strongly believe my first win in Formula 1 will come sooner or later - in an ideal world it will happen this year."
Perez is returning home to Mexico before the next race of the season in China, and although expressing some disappointment at losing out on the chance to win he is more than satisfied with what he achieved.
"For sure it was a great race and in a way a great feeling," he said. "But initially I was a bit disappointed because I thought maybe I could have won it, although nobody knows what in the end would have happened if I had managed to attack Fernando (Alonso) and whether I would have got by him or not.
"Meanwhile, of course, I realised that having come second is also a great result for us and is a perfect boost for the entire team, which is working very hard. I am happy for everybody in the Sauber F1 Team."