Nico Rosberg baffled by tyre problems in the Malaysian Grand Prix
| | |
| --- | --- |
| By Jonathan Noble | Monday, March 26th 2012, 08:59 GMT |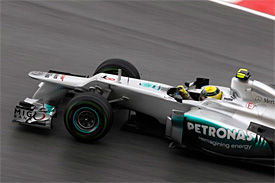 Nico Rosberg has admitted that he is baffled by the tyre problems suffered by Mercedes in the Malaysian Grand Prix, as the team failed again to capitalise on its strong qualifying pace.
Rosberg and team-mate Michael Schumacher had been McLaren's main rivals in the battle for pole position, but their form dropped off dramatically in the race for the second event in succession.
But rather than its performance in Malaysia being the result of excessive degradation, as happened in Australia, Rosberg says that its tyre issues in Sepang had a totally different nature that he does not understand.
"It is strange we are so strong in qualifying but then struggling in the race," Rosberg said on his official video blog after the Malaysian GP. "In qualifying with the car we have we can fight for the front row, but in the race [we cannot match that].
"This time strategy-wise, everything was going well. I was P4 after the red flag and pitstop, and from then on I thought I could do something good this time. But then I started going backwards - and big time.
"[With] the first inters I had to come into the pits because I thought my rear tyre was game over completely. So I come into the pits, put a new set of inters on and the pit crew said to me that my inters were brand new still, so I thought, what is going on? They felt completely destroyed. It was strange.
"From then on, it was getting worse and worse, and then going on the slicks it was a bit of a highlight that I managed to beat Jenson which was nice, but fighting for 13th place is not worth mentioning."
Mercedes chiefs now face an intense effort over the next few weeks to try and get an understanding of why their car is so strong on single lap pace but cannot repeat that form over long runs.
Rosberg added: "There is a lot of work ahead of us as we are still struggling in the race, and it is going to take some thorough analysis. We have enough time before China [on April 15], so I hope we can improve.
"I am looking forward to China to finally getting a better result, and my season starts there more or less."