Red Bull says understanding 2012 tyres is as key as improving its car's pace
| | |
| --- | --- |
| By Jonathan Noble | Monday, March 26th 2012, 08:50 GMT |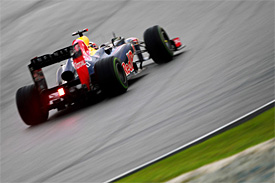 Red Bull believes that getting a better understanding of Pirelli's tyres will be just as important to its title hopes as improving its car.
On the back of Ferrari and Sauber delivering a shock result in the Malaysian Grand Prix, Red Bull team principal Christian Horner says that his squad needs to be able to extract more from the 2012 tyres if it is to deliver the consistent results that will ensure the championship.
"Consistency will be important all the way through," explained Horner. "HRT have played their role today [with Narain Karthikeyan colliding with Jenson Button and Sebastian Vettel], but I don't think anybody could have predicted that Sergio [Perez] would be harrying Fernando [Alonso] for a victory.
"We are just going to be focused on our own performance, and stick to our own plan. We have an additional week before China, rather than the usual two-week period, and it will be about consistency and understanding the tyres.
"The tyres seem to be the biggest variant. They seem to have changed the most from last year and, as you can see, different cars at different points are quick. Suddenly Kimi [Raikkonen] came alive at the end of the race and started setting purple sectors, so the tyres appear to be a key factor."
Horner believes that the evidence of the first two races of the campaign shows that performance swings are likely to be quite dramatic throughout 2012.
"Looking at Sunday's performance, one would have to say that Sergio Perez is currently the hot favourite," he joked. "But hats off to him. He drove a great race, and I don't think anyone would have predicted a Ferrari victory [with Alonso].
"I think the only good thing is that the fans are in for a good year. The pace has moved around an awful lot, and here was quite peculiar because, if you look at it, Sergio was the quickest man on track.
"He was catching a Ferrari and pulling away from a McLaren, so it is difficult to draw too much out of the first couple of races. We know we have got things that we can improve on, and that is what we will be focused on for China. But it is fairly unpredictable at the moment."
When asked if he felt that Sauber could actually be a genuine threat to the front-runners for the remainder of the season, Horner said: "Based on this performance they were the car to beat in the race.
"They were the quickest driver/car combination, so hats off to them for that. It is not one that you would perhaps have expected."