IndyCar CEO Randy Bernard admits relief at being able to focus on new season
| | |
| --- | --- |
| By Mark Glendenning | Saturday, March 24th 2012, 23:14 GMT |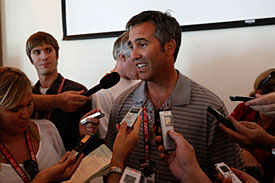 IndyCar CEO Randy Bernard has admitted that it is a relief to be able to focus on racing again after what he described as a "very trying" few months since the end of the 2011 season.
The series has been forced to deal with the shock and subsequent investigation of Dan Wheldon's fatal accident in last year's season-finale at Las Vegas, as well as challenges ranging from getting the new technical package up to speed to a major overhaul of key backroom staff.
Speaking at this weekend's season-opener at St Petersburg, Bernard said that the opportunity to get back to racing has given everyone in the series a chance to move on.
"The past months since October have been very trying," he said. "For me, I hit my low in probably December. Everything seemed to be going wrong. Everybody was talking badly about the car, there was stuff about how many events we were going to have... we were getting fired on from every which way.
"[Now] I think everybody is anticipating getting on with the season.
"When you're a cowboy and you get bucked off, you get back on that horse. It's kind of the same thing - [the drivers] haven't been able to get back on that horse. Everybody wants to get on with the season, and showcase open-wheel racing here in the US. There were a lot of sleepless nights.
"If you look at everything that we have this year, from a new car, to three new engines, to a new website, to a new phone app, to a new chief operating officer, to a new chief steward, to a new technical directorů that's just a few of the things we implemented that are new," he added.
"And to think that all those things came together on the same weekend is mindboggling. I'm not saying that everything is going to be perfect, but everyone has put their heart and soul into trying to make it perfect."