Pirelli expects three-stop strategies in Malaysian Grand Prix
| | |
| --- | --- |
| By Jonathan Noble | Saturday, March 24th 2012, 03:41 GMT |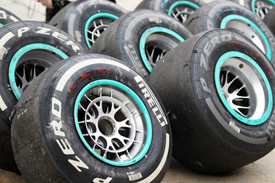 Pirelli is predicting a three-stop strategy for frontrunning teams in the Malaysian Grand Prix - with there being a high chance some drivers may opt to qualify on the harder tyre to leave them in better shape for the race.
With the heat and track characteristics of Sepang leading to high tyre degradation, practice has suggested that there could be a benefit to using the hard compound when the car is fuelled up at the start of the race.
Under the current rules, drivers who qualify in the top 10 on the grid must start the race on the same set of tyres that they set their fastest time on.
Speaking about the tactical options, Pirelli motorsport director Paul Hembery said: "We are looking at a three-stop strategy. That is the most probable - although how you compose that is unknown yet.
"Some teams may want to consider starting on the hard to have a better balance with the full fuel load – but you will probably not do that if you want to get pole position.
"So it's a difficult choice. Although you can overtake here, track position is still very important and people don't want to be having to overtake. Running behind cars is still something to be avoided and if you are a top team you want to start in front of your nearest competitor."
With Pirelli having promised a challenging time for the teams in Malaysia, Hembery says that the high degradation experienced so far is in line with what had been expected.
"It is what we wanted to see," he said. "We knew this would be an aggressive choice of compound and that this would be one of the most extreme races."