NASCAR defends its inspection process in the wake of Jimmie Johnson's appeal win
| | |
| --- | --- |
| By Diego Mejia | Friday, March 23rd 2012, 20:26 GMT |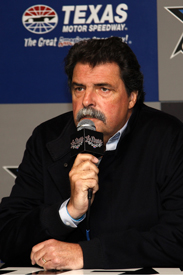 NASCAR President Mike Helton has defended the inspection process and the ruling against Jimmie Johnson and his team following the Daytona 500, despite a final appeal overturning most of the penalties imposed.
Last Tuesday Hendrick Motorsports claimed an unexpected victory in the final appeal against NASCAR's ruling on Johnson's Daytona 500 car, which failed its first inspection ahead of the Sprint Cup season opener at the Florida oval.
Chief appellate officer John Middlebrook rescinded a six-week suspension for crew chief Chad Knaus, car chief Ron Malec plus points deductions in the drivers' and owner's standings, only upholding a US$100,000 fine for Knaus. Hendrick Motorsports had lost a first appeal a week earlier, when all penalties were confirmed by an appeal panel.
Despite Middlebrook's decision being a clear defeat for NASCAR, Helton says it confirms that the actions taken by officials at Daytona were correct. He doesn't believe the inspection process has lost any of its credibility as a consequence.
"I think the decision made this week upholds what's right and wrong when it comes to the inspections process and the things on the car, because there were elements of the penalty that were upheld, relative to parts of the car that did not conform to the rules," said Helton.
"We did what we felt was correct. Our inspectors did their job, we collectively made a decision on how to react to it and the car owner has a due process to take and follow and that due process completes it up and that's what happened this past week and will go on down the road."
Part of Hendrick's defence was based on the fact that the same parts that were ruled illegal in February had already passed numerous inspections last year at both Daytona and Talladega. However, the actual reasons for last Tuesday's ruling remain unknown.
Middlebrook, who worked for many years as General Motors executive, has not spoken publicly about his decision to partially rescind the penalties initially levied by NASCAR.
Helton said it is not Middlebrook's obligation to explain his decisions and says this week's ruling doesn't affect their faith in his fair judgement.
"When we chose John Middlebrook as our chief appellate officer, we chose him based on our experiences with him for several years and his pragmatic approach to business and to his relationship with race teams and with NASCAR," said Helton.
"The reasons that we chose the current chief appellate officers haven't changed and our opinion and our believe in him haven't changed."
Although Helton says NASCAR's rulebook is a continuous work in progress, he does not anticipate any changes to it or the inspection process for now.