Arena Motorsport's WTCC Fords will continue to carry 30kg of ballast at Valencia
| | |
| --- | --- |
| By Peter Mills | Friday, March 23rd 2012, 13:44 GMT |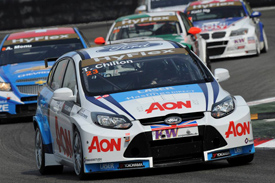 Arena Motorsport's World Touring Car Fords will continue to carry 30kg of ballast at Valencia next weekend.
The imposition of the weight follows a difference of interpretation on technical aspects of the team's all-new Focus S2000 TCs in round one of the championship at Monza earlier this month.

The cars qualified fitted with a flat-floor, widely used throughout the WTCC field, but were subsequently asked to remove the floor ahead of the races. Despite a resultant aerodynamic penalty and increased tyre wear, the cars demonstrated plenty potential on their WTCC debut.

Arena team manager Alan Cole told AUTOSPORT: "There was a question mark from the FIA regarding the floor. At the moment we are still in negotiations with the FIA about where the tyre sits.
"We believe we're correct, they believe they're correct. They came and asked us to make a change just before the race [at Monza]. It was like, 'Ah, okay'. It put us in a bit of a spin, but the drivers coped with it well.
"The 30kg probably won't come off until such time as these issues with the FIA are resolved. They won't just wave it through and say 'Just get on with it and we'll sort it out later'.
"You know it will be the same for everybody else in the pitlane. There is a good reason why every other car has [a flat floor]. We applied to the FIA to have the same as the other teams some time ago, and we're waiting to hear back from them at the moment. We just have to sit and wait, and they'll tell us when they're ready."

The team has already addressed a minor difference of rule interpretation concerning the cars' suspension. A component made out of steel and aluminium has been changed to just one material, and was tested at Rockingham on Wednesday.

The FIA Touring Car Commission has allowed the cars to continue in their Monza specification for the next two rounds of series, at Valencia on April 1 and Marrakech a fortnight later, but have announced that no further waivers will be granted.
*To find out more about Arena's start to the season, read Peter Mills' exclusive interview with team manager Alan Cole.