Ferrari says it has confidence in Felipe Massa despite troubled start
| | |
| --- | --- |
| By Jonathan Noble and Sam Tremayne | Friday, March 23rd 2012, 09:02 GMT |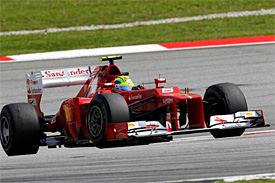 Stefano Domenicali is confident that both Felipe Massa and Ferrari can find improvements after troubled starts to 2012.
Amid speculation over Felipe Massa's seat at the team - following poor performances in 2011 and in Australia last weekend - Domenicali said it was important to retain confidence in the Brazilian.
He explained that Alonso and Massa had been on different programmes in second practice, the primary reason why they were more than a second and 10 places apart at the session's close.
The Ferrari boss also said curing the F2012's traction in low speed corners was one of the chief priorities for the team, and that with such a close field even small gains would make a big difference.
"It is important at the moment to have good confidence around him," Domenicali said of Massa.
"In terms of what we see today, we were working in different programmes for the different drivers. Tomorrow we see what the situation is - the work is to make sure Felipe has the best car in the best conditions.
"In order to make Felipe comfortable in this particular moment we took different parts of what we had, so we changed to the spare chassis for Felipe and changed all the pieces to make sure there was nothing wrong with car he used in Melbourne.
"We know what are the problems and we need to tackle them, and make sure these problems that are fundamental are solved as quickly as possible."
Pressed on what the issues were, Domenicali said: "The problems of the car are what I said in Sunday in Melbourne : mainly traction in low speed corners and speed. These are the two fundamental issues that we need to resolve.
"At home we need to push on the development of the car and I am confident our engineers will solve the issues we have as quickly as possible. In such a close field a little step makes a big difference.
"For sure I am disappointed by the performance of the car no doubt, it is an easy answer. But not to be happy does not help, and I ask the engineers to be focused on their job as that is what they have to do.
"In one week, it is important to say we have identified issues on car and we are working at home to resolve it. We need to maximise what we are doing on track and improve it."