Lewis Hamilton confident of bouncing back in the Malaysian Grand Prix
| | |
| --- | --- |
| By Sam Tremayne | Wednesday, March 21st 2012, 15:05 GMT |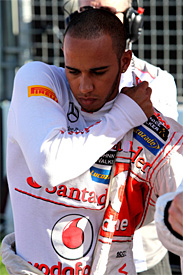 Lewis Hamilton says post-race analysis has helped him pinpoint why he slipped back in the Australian Grand Prix, leaving him in a far more optimistic frame of mind heading into Malaysia.
Having started from pole, Hamilton lost out to team-mate Jenson Button on the run down to the first corner and was then unable to replicate the elder Briton's pace.
He then slipped behind Sebastian Vettel after an adversely timed safety car.
While Hamilton was downbeat afterward - admitting he was baffled by his struggles - he says his debrief has helped him understand where Button was able to gain an advantage.
"After the race in Australia, it was difficult to understand exactly what happened," Hamilton explained. "I was generally happy with the car all weekend, but just lacked a bit of pace compared to Jenson in the race.
"Afterwards, I sat down with my engineers and we went through all the data. There was a small issue with the clutch at the start: it wasn't my fault, but we now understand and know how to improve in the future.
"My race pace was pretty much identical to Jenson's, but he was able to switch the tyres on extremely well, which explains how he was able to pull a gap so quickly at the start and also after the restart.
"It's encouraging and reassuring to understand the reasons for our race pace in Australia, and it puts me in a really positive frame of mind for the race in Malaysia. Plus, it always helps to be back in the car only five days after the last grand prix – you move on so quickly."
Hamilton added that he expected Mercedes and Red Bull to be in the mix at Sepang, but said he was enjoying having the superior machinery after the dominance of the RB7 last year.
"Clearly, we're very encouraged by our pace, both in qualifying and in the race, and I'd like to think we can continue that at Malaysia this weekend," he said.
"I think both Mercedes and Red Bull Racing have performance up their sleeves, and they'll both be very fast in qualifying and the race. As far as McLaren is concerned, it's nice to be the hunted rather than the hunter.
"I think we go into the weekend feeling pretty optimistic because Sepang is quite a high-speed circuit and our car has usually gone well in the high-speed stuff during winter testing.
"I've made no secret of the fact that I'd love to win a grand prix at every circuit I race at. I've not won at Sepang before, but I've had some good races here – and I'd like to put the record straight with a victory this weekend."