Michael Schumacher certain Mercedes can turn flashes of pace in Melbourne into strong season
| | |
| --- | --- |
| | Tuesday, March 20th 2012, 10:37 GMT |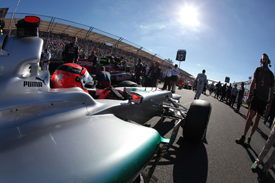 Michael Schumacher says he is confident the speed Mercedes showed in Australian Grand Prix qualifying will not turn out to be a one-off - despite the team's disappointing race and Melbourne's habit of sometimes producing anomalous results.
Schumacher's team-mate Nico Rosberg was fastest in Q2 in Australia, and Schumacher qualified fourth, with the pair then running third and fourth early in the race. A gearbox problem halted Schumacher, while Rosberg fell back with high tyre wear and was classified only 12th following a last-lap collision with Sergio Perez's Sauber.
Seven-time Formula 1 champion Schumacher said the fact that Mercedes had not managed to maintain its pace all through the Melbourne weekend had not dented his confidence that 2012 could be a very strong season for the team.
"After the disappointment of how the first race in Melbourne turned out, I am flying to Malaysia with a big sense of anticipation, because we saw in Australia that our car is capable of putting us in the mix," he said.
"Of course, we haven't forgotten that the circuit in Melbourne is not really representative of the true competitive picture, but nevertheless the car gives me a good feeling for the season ahead.
"Sepang will be interesting for everybody because it will be the first clue to the real relative strengths of all the cars. The range of slow and fast corners give a good indication of where you are, which always makes the race in Malaysia fun for the drivers and engineers, and overall a big challenge for both man and machine."
Team boss Ross Brawn agreed that Mercedes now just had to deliver.
"We have a fundamentally good car, now it is up to us to optimise its performance and achieve its potential on track," he said.