Vettel says red Bull will need to dig deep to overhaul fast-starting McLaren
| | |
| --- | --- |
| By Jonathan Noble | Tuesday, March 20th 2012, 09:28 GMT |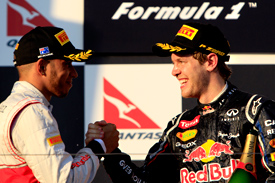 Sebastian Vettel has conceded McLaren has the upper hand over Red Bull at the moment, and that his team will need to dig deep if it is to overhaul its rivals in the fight for the world championship.
Although Vettel bounced back from a disappointing sixth place on the grid to finish second last weekend in the Australian Grand Prix, he never looked like being able to threaten runaway race leader Jenson Button.

Despite not getting the best out of his car in Melbourne, particularly in qualifying, Vettel was under no illusions about how strong McLaren appears to be.

"I think at the moment they have the upper hand," said the double world champion. "They showed it here. But whether they still have it next week remains to be seen.

"Surely they look very strong. They had an excellent winter. Pre-season testing was very good for them and they seem to be in very good shape, whereas there are a lot of things we need to do to catch up. Hopefully we will be able to do that and beat them."

Although there were stages of the Australian GP where Vettel was a match for Button, he does not think that he had the package beneath him that would have allowed him to overhaul the 2009 world champion for victory.

"Initially I was quite happy because we caught up with Jenson and I thought we might have a go, but he was too strong. I think you have to respect that and see the fact that he was unbeatable.

"He pulled away immediately [after the safety car] and I was struggling. I think I held up Lewis [Hamilton] at that stage a bit, struggling to get temperature, but after a couple of laps I was back into my rhythm and it seemed alright.

"I think we stabilised the gap to Jenson ahead and pulled away slightly from Lewis. It was a good race after that but surely we had no chance to beat Jenson."

Despite not being able to repeat his victory from last year, Vettel was still pretty happy with the overall weekend.

"I think we had a very good start of the race and I was able to find a rhythm quickly and get past a couple of people, especially the Mercedes because to get them is usually quite tricky. They are usually quite quick on the straights and we've seen that last year a couple of times that many people got frustrated behind them, so that was crucial.

"I think the pace was pretty good and I was happy with the car. It was an important race for us to learn about the car and the potential was there. Surely Jenson deserved to win, so congratulations to him and the McLarens, but to finish ahead of Lewis was great for us."