Sauber says recovery in troubled Australian GP shows car's pace
| | |
| --- | --- |
| By Sam Tremayne | Sunday, March 18th 2012, 09:43 GMT |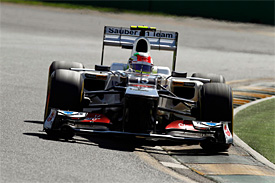 Sauber's fightback in the Australian Grand Prix, and its ability to score points with both cars despite a litany of troubles, proves the underlying pace of the C31, according to both its team principal and its two drivers.
Sergio Perez gave perhaps the best demonstration, coming through from the back of the grid to finish eighth - and that after losing positions in a hectic final lap at Albert Park.
Kamui Kobayashi, meanwhile, emerged in sixth following a late battle with Kimi Raikkonen's Lotus. The Japanese driver had to cope with a damaged rear wing for the race's duration after getting tagged by Perez in the first-corner melee.
Team principal Peter Sauber hailed both drivers' performances, and said they had been made possible because Sauber had delivered a fast car.
"Both drivers delivered a fantastic race, especially Sergio, starting from last and finishing eighth," he explained. "However, this is only possible with a fast car.
"I'm very happy that we were able to fight back after a difficult qualifying. A big thank you to the team at the track and also the people back in Hinwil for designing a great car. We went into this season with high expectations and were able to deliver today."
Kobayashi labelled the race as a 'great start to the season', before adding: "After the start I nearly crashed into Bruno (Senna) who spun in front of me. I was lucky to avoid hitting him, but at the same time Sergio could not avoid touching me and then I had to do the whole race with a damaged rear wing. This was very difficult and for sure cost car performance.
"However, after the first lap I had improved two positions. I was on a two stop strategy, with two sets of softs in the beginning and the medium compound for the last stint.
"With my second pitstop I had bad luck with the timing because the safety car came out just after I had pitted. Then I was running in ninth position until the ultimate lap when Pastor (Maldonado) crashed and Sergio had a battle with Nico (Rosberg). I went passed and finished sixth."
Perez , who started from last after changing a gearbox, said his first corner touch with Kobayashi was just one of the ailments he suffered during the race.
He insisted he was happy with the performance despite conceding position on the final lap.
"After I had to start last on the grid because of changing the gear box I knew I had to try everything to gain positions right after the start," he explained. "I managed to get into 12th behind Kamui and touched his car while he had to avoid crashing into the Williams car in front of him. My front wing was then damaged and this was only one of the difficulties I had today during the race.
"I also had to save tyres, also for some time fuel, and I had to fight to defend my position. It really was a tough race for me. On the very last lap Pastor crashed and I backed off, but then Nico overtook me, our cars touched and I had to finish the race with tyres that were completely gone.
"Of course I'm not happy to have lost my position on the final lap, but I am very happy for the team because finishing sixth and eight is a good start to the season."