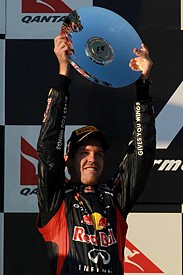 Sebastian Vettel said his second place in the Australian Grand Prix proved that Red Bull is in much better shape than its surprise row three qualifying spots in Melbourne suggested.
After dominating the 2011 season, Red Bull found itself back in fifth and sixth on the Melbourne grid with Mark Webber and Vettel.
But Vettel was able to move forward in the race, getting up to third when Michael Schumacher retired his Mercedes, and then vaulting Lewis Hamilton's McLaren for second at the final pitstops. Webber finished fourth despite a poor start and early collision with Nico Hulkenberg's Force India.
Although Vettel did not have the pace to attack winner Jenson Button's McLaren once up to second, he was pleased with how Red Bull had turned its weekend around.
"Congratulations to McLaren and Jenson - he drove a fantastic race, he was unbeatable today but I am happy to come away with second," said Vettel.
"A lot of people did not expect it after yesterday."
Vettel is certain that the Red Bull RB8 has a lot of untapped speed that it just did not show in Melbourne, so was pleased to get a big score on what he thinks will be one of the toughest weekends for his team.
"It was a positive race for us, one we knew would be a difficult one - so to come second with a lot of points is important," he said.
"The car has a lot of potential. I would have loved to be in a better position yesterday. Now we need to address problems and make sure we give them a harder time next week."