Tom Kristensen tops messy night practice for Audi at Sebring
| | |
| --- | --- |
| | Friday, March 16th 2012, 02:19 GMT |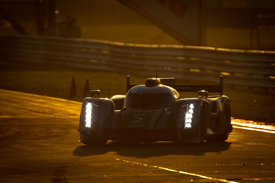 Tom Kristensen led another all-Audi top three in Sebring 12 Hours night practice, despite two of the three R18s being involved in a multi-car accident.
The incident occurred when a Porsche spun at the hairpin, forcing Nick Heidfeld to come to a halt in the Rebellion Lola-Toyota. Audi's Loic Duval then crashed into the ex-Formula 1 driver, with Duval in turn hit by team-mate Marcel Fassler. Allan McNish managed to avoid the incident in the third Audi, and while Duval's #3 car was left stranded on track in the resultant red flag, Fassler brought the #1 back to the pits with only minor damage.
Kristensen put Audi's #2 R18 on top with a 1m47.049s lap in the closing minutes of the session, which was extended by 25 minutes due to the number of red flag interruptions. Andre Lotterer lapped 0.330 seconds slower than Kristensen in the repaired #1, while the #3 remained third despite having to sit out the rest of the session following the tangle.
The Pickett and JRM HPDs were next up after the dominant Audis, followed by the #15 OAK Pescarolo and Rebellion's Lola.
Stephane Sarrazin put Starworks' HPD on top in LMP2, while BMW's Joey Hand edged out AF Corse Ferrari driver Gianmaria Bruni by just 0.065s in GTE Pro, followed by the Corvettes. Luxury Ferrari driver Pierre Ehret was quickest in GTE Am.
Raphael Matos (Performance Tech) and Spencer Pumpelly (TRG) led the one-make LMPC and GTC classes respectively.
Of the other red flag incidents, the most serious was a crash at Turn 11 for Maxime Jousse in the Gulf Lola-Nissan. Jousse was unhurt, but the car sustained heavy damage.
Pos  Cl     Drivers                        Team/Car                Time
 1.  P1     Capello/Kristensen/McNish      Audi                    1m47.049s
 2.  P1     Fassler/Lotterer/Treluyer      Audi                    1m47.377s
 3.  P1     Bernhard/Dumas/Duval           Audi                    1m48.752s
 4.  P1     Graf/Luhr/Pagenaud             Pickett HPD             1m49.910s
 5.  P1     Brabham/Chandhok/Dumbreck      JRM HPD                 1m51.459s
 6.  P1     Baguette/Kraihamer/Moreau      OAK Pescarolo-Judd      1m51.707s
 7.  P1     Heidfeld/Jani/Prost            Rebellion Lola-Toyota   1m51.709s
 8.  P2     Dalziel/Potolicchio/Sarrazin   Starworks HPD           1m51.824s
 9.  P1     Kane/Leventis/Watts            Strakka HPD             1m52.850s
10.  P2     Lahaye/Nicolet/Pla             OAK Morgan-Judd         1m52.867s
11.  P1     Belicchi/Bleekemolen/Primat    Rebellion Lola-Toyota   1m53.186s
12.  P2     Diaz/Hunter-Reay/Tucker        Level 5 HPD             1m53.190s
13.  P1     Boullion/Collard/Jousse        Pescarolo-Judd          1m53.263s
14.  P1     Dyson/Smith/Kane               Dyson Lola-Mazda        1m53.436s
15.  P2     Barbosa/Bouchut/Tucker         Level 5 HPD             1m53.797s
16.  P2     Lombard/Mailleux/Tresson       Signatech ORECA-Nissan  1m53.895s
17.  P2     Companc/Kaffer/Ayari           Pecom ORECA-Nissan      1m54.866s
18.  P2     Julian/Gonzalez/Zugel          Greaves Zytek-Nissan    1m55.308s
19.  P2     Graves/Kerr/Martin             ADR-Delta ORECA-Nissan  1m55.351s
20.  P2     Curtis/Fogarty/Pappas          Black Swan Lola-HPD     1m55.851s
21.  P2     Dracone/Hansson/Plowman        Conquest Morgan-Judd    1m55.971s
22.  P2     Holzer/Moro/Shultis            Lotus Lola              1m56.234s
23.  PC     Matos/Nicolosi/Vera            Performance Tech FLM    1m56.789s
24.  PC     Ducote/Echeverria/Sanchez      Merchant FLM            1m56.916s
25.  PC     Cameron/Ende/Richard           Dempsey FLM             1m57.113s
26.  PC     Drissi/Gonzalez/Junqueira      RSR FLM                 1m57.384s
27.  PC     Downs/Marcelli/Stirling        Merchant FLM            1m57.502s
28.  PC     Friselle/Popow/Viso            CORE FLM                1m58.732s
29.  PC     Dobson/Leitzinger/Junco        PR1 FLM                 1m59.595s
30.  GTE P  Hand/Muller/Summerton          RLL BMW                 2m00.258s
31.  GTE P  Bruni/Fisichella/Vilander      AF Corse Ferrari        2m00.323s
32.  GTE P  Garcia/Magnussen/Taylor        Corvette                2m00.415s
33.  GTE P  Gavin/Milner/Westbrook         Corvette                2m00.428s
34.  PC     Bennett/Braun/Lux              CORE FLM                2m00.902s
35.  GTE P  Cosmo/Sharp/van Overbeek       Extreme Speed Ferrari   2m01.271s
36.  PC     Gidley/Guasch/Wills            Muscle Milk ORECA       2m01.295s
37.  GTE P  Fernandez/Mucke/Turner         Aston Martin            2m01.384s
38.  GTE P  Bertolini/Beretta/Gioci        AF Corse Ferrari        2m01.541s
39.  GTE P  Bergmeister/Holzer/Long        Flying Lizard Porsche   2m01.848s
40.  GTE P  Alzen/Auberlen/Muller          RLL BMW                 2m01.859s
41.  GTE A  Farnbacher/Ehret/Jakubowski    Luxury Ferrari          2m01.864s
42.  GTE P  Brown/Lazzaro/Segal            Extreme Speed Ferrari   2m01.916s
43.  GTE P  Lieb/Lietz/Pilet               Felbermayr Porsche      2m02.079s
44.  GTE A  Krohn/Jonsson/Rugolo           Krohn Ferrari           2m02.388s
45.  GTE P  Makowiecki/Melo/Vernay         Luxury Ferrari          2m02.552s
46.  GTE P  Henzler/Ragginger/Sellers      Falken Porsche          2m02.686s
47.  GTE A  Aguas/Kauffman/Waltrip         AF Corse Ferrari        2m03.663s
48.  GTE A  Bornhauser/Canal/Lamy          Larbre Corvette         2m04.202s
49.  GTE A  Ried/Roda/Ruberti              Felbermayr Porsche      2m04.712s
50.  GTE P  Bell/Maassen/Miller            Paul Miller Porsche     2m04.870s
51.  GTE A  Belloc/Bourret/Gibon           Larbre Corvette         2m05.288s
52.  P2     Giroix/Jousse/Charouz          Gulf Lola-Nissan        2m05.482s
53.  GTE A  Binnie/Palttala/Camathias      JWA-Avila Porsche       2m05.628s
54.  GTE P  Lally/Law/Neiman               Flying Lizard Porsche   2m05.646s
55.  GTC    Bunting/di Guida/Pumpelly      TRG Porsche             2m07.623s
56.  GTC    Bleekemolen/Faulkner/LeSaffre  Green Hornet Porsche    2m07.677s
57.  GTC    Dumoulin/Keen/MacNeil          Alex Job Porsche        2m07.993s
58.  GTC    Bullitt/Cumming/Estre          JDX Porsche             2m08.264s
59.  GTC    Bell/Sweedler/von Moltke       Alex Job Porsche        2m08.971s
60.  GTC    Avenatti/Faieta/Wagner         Competition Porsche     2m10.963s
61.  GTC    Sofronas/Villeneuve/Welch      GMC Porsche             2m11.696s
62.  GTC    Benitez/Benitez/Thiim          NGT Porsche             2m12.884s
63.  GTC    Cisneros/Edwards/Kauffmann     NGT Porsche             2m13.006s
64.  P2     Fatien/Ihara/Johansson         Gulf Lola-Nissan        2m45.748s