Jenson Button sad that Rubens Barrichello's persistence for a 2012 F1 seat cost him a big send-off
| | |
| --- | --- |
| By Simon Strang | Thursday, March 15th 2012, 19:54 GMT |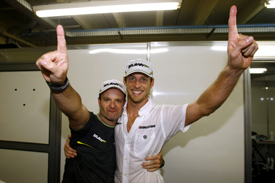 Jenson Button is sad that the Formula 1 community never had the opportunity to celebrate Rubens Barrichello's career with him as a result of the sport's most experienced driver refusing to give up hope of finding a race seat for this season.
Button, who was Barrichello's team-mate for four years at Honda (and the Brawn when the team changed owners) from 2006 to 2009, reckons that the 39-year-old Brazilian's determination to stay in the sport cost him the chance to bow out in style.
"He is a friend and I worked with him for four years and I have a lot of respect for him," Button said when asked if he would miss Barrichello's presence in the paddock. "I think we were all very disappointed that he wasn't going to be racing this year and also disappointed that Rubens decided to fight to race in F1 because we didn't get to have a big party at the end of the year in Brazil.
"But Rubens is a racer and he still loves it. He's nearly 40 years old and he's raced more GPs than anyone but he still wants to be racing and he's got the hunger still - and he's still quick. Setting up the car he's one of the best in the business.
"He's got his new career now in IndyCar – which is brave – after doing this for so long. But Rubens will be strong definitely."
While Barrichello left the sport against his wishes, Button added that Kimi Raikkonen's return to F1 this year was a cautionary tale for drivers who are considering quitting.
"It just shows you that you shouldn't give up too early on the sport," said Button. "There are obviously things in every job that you dislike, but we are doing one of the best jobs in the world and it proves with Michael [Schumacher] leaving and coming back and Kimi [Raikkonen] leaving and coming back, that you have got to be careful when you leave and when you decide to retire.
"It's good to have him back. He's an interesting character and he's a great driver."