Lotus's Alan Permane believes new F1 tyres will generate more varied race strategies
| | |
| --- | --- |
| By Jonathan Noble | Wednesday, March 14th 2012, 09:26 GMT |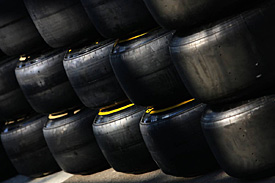 Pirelli's aggressive choice of tyre compounds this year will open up the possibility of more varied strategies from teams, reckons Lotus trackside operations director Alan Permane.
With Pirelli's range of tyres being much closer together in performance this year, there is less chance of outfits all opting for the same tactics as happened on numerous occasions in 2011.
Furthermore, the 2012-specification tyres are very sensitive to how they are treated in the early stages of their life - with degradation being much higher if the tyre is pushed very hard on its first lap.
Permane thinks that those characteristics will make for better racing – because teams will have more opportunity to use clever strategy.
"We have a nicer situation this year where we have tyres that are not as far apart lap time wise," Permane told AUTOSPORT. "In degradation terms, whereas last year we had tyres that were very wide apart on lap time and with the same degradation, these are closer and the hard tends to degrade less.
"So you have probably got an opportunity to use them strategically, whereas last year you had to put softs on and then use the hard one right at the end."
Permane says teams have paid careful attention to the degradation levels of the tyres – and how they react to being over-used early in a stint.
"You can see in testing people went out doing race distances and for the first two, three or four laps the times were very similar – but then they [the tyres] started going away," he said.
"But when people put on new tyres to do set-up work, the tyres seemed to go away very quickly when you really try and hit the first lap. So if you do that in the race you will kill them for sure.
"You would just get a huge step in degradation, but there is no doubt that no matter how much you look after them, you can only make them consistent for two or three laps and then they take a step."
Permane thinks that the nature of the tyres means teams will have to concentrate much more on ensuring their race set-up is spot on – rather than focusing on eking out performance for a single lap.
"If you qualify well you tend to race with the pack you are with. But having said that, with high degradation you absolutely want a good race car, so at the moment if I had to put my money on it I would say concentrate on the race, and maybe sacrifice a qualifying position."