Dallara rules out developing its own new IndyCar aero kit for 2013
| | |
| --- | --- |
| By Mark Glendenning | Tuesday, March 13th 2012, 17:24 GMT |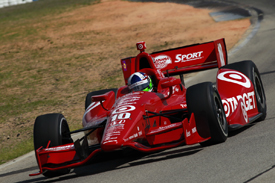 Dallara has confirmed that it will not be producing a new aero kit for the 2013 IndyCar season.
All of the new DW12 IndyCars will use Dallara bodywork this year before the series opens the regulations up to allow any manufacturer to produce and sell aero kits for 2013.
However Dallara's Andrea Toso told the official IndyCar website that the company would focus on assembling new cars and providing spares packages for the current aero kit rather than going into competition with other manufacturers next year.
"We have a strong commitment to IndyCar to support the entire 2012 season in terms of all the spare parts to support the entire field. This is our priority now," Toso said. "We also have to provide spares for the current kit should any team decide to run the 2012 parts in 2013 and beyond. This commitment ensures that all the parts used in 2012 still retain values for the teams in the future race seasons."
However, Toso did not rule out building a new aero kit under contract for someone else.
"The development of a brand new aero kit is a large investment and Dallara would not be profitable if doing on its own," he said. "You have to be humble enough to provide the platform and let them play, though Dallara is interested to provide its engineering resources to develop the aero kit for a third party company that might be looking at this opportunity to promote and activate its own business."
IndyCar had originally planned to allow alternative aero kits for this season before concerns from teams about the additional cost prompted it to delay the move.