Lotus team owner Gerard Lopez says Robert Kubica's absence is big blow to Formula 1
| | |
| --- | --- |
| By Jonathan Noble and Michele Lostia | Friday, March 9th 2012, 13:15 GMT |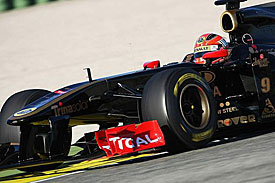 Robert Kubica's continued absence from Formula 1 is a 'big loss' to the sport, reckons his former boss Gerard Lopez.
The Polish driver is still recovering from serious injuries he suffered in a rally crash last February, and is not expected to be fit enough to return to the cockpit of a racing car until later this year.
Lopez, the owner of the Lotus team that Kubica raced for when it was known as Renault, has expressed regret about the way events turned out with the driver - and especially the way the relationship deteriorated over the course of last season.
"I'm sad for what happened: it was very difficult for us, and even more for Robert," Lopez said in an interview with Gazzetta dello Sport. "We did everything and more, while respecting the agreements we had with him.
"We were ready to carry on and figure out how to make him get back sooner inside the car and perhaps later in the championship. But I'm not at all happy for what happened later. We couldn't do more; I don't think it was Robert..."
Lopez suggests that rumours of a tie-up with Ferrari played a factor in the way things developed with Kubica – and he takes no satisfaction that the fact there remains uncertainty about whether or not the one-time grand prix winner will make it back to race in F1.
Talking about if issues developed between team and driver over the Ferrari situation, Lopez said: "Yes, but I don't know whether that was Robert's illusion or someone else's. We knew that a return for Robert in 2011 wasn't possible.
"We didn't urge him but pressure was put on him by his management. I don't know whether this had to do with the interest they had for Ferrari, but our door was left open for a long time.
"I still think Kubica is part of that small category of drivers who can win with a car that is not the best. It's a big loss."