HRT 'proud' to be ready for 2012 after winter transformation
| | |
| --- | --- |
| | Friday, March 9th 2012, 10:46 GMT |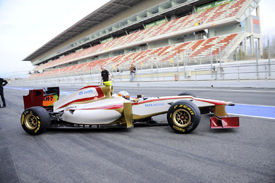 HRT should be very proud of its winter efforts even if it is off the pace in Melbourne, reckon team boss Luis Perez-Sala and drivers Narain Karthikeyan and Pedro de la Rosa.
The squad has undergone massive change over the winter as the new Perez-Sala-led management took full control and moves to make it a fully Spanish team began.
The new F112 chassis was not ready to run during testing, but did complete a 'filming' day at Catalunya at the start of this week.
"We would have liked to have come with more mileage but I think it's an achievement to have made it with a 100 per cent new car and a practically new team," said de la Rosa. "Our aim is to do things well, with seriousness and patience."
Team returnee Karthikeyan is confident that HRT can now start moving forwards, and hopes for a better start than last year's failure to qualify.
"I'm feeling positive ahead of the Australian Grand Prix after having completed 10 laps with the new F112 last Monday," he said. "Of course this was only a first contact and we didn't push it to the limit but the important thing was to get the ball rolling.
"It's not ideal to miss testing but we must look forward now. The new management have done an incredible job putting everything together and we'll do the best we can to continue progressing. We're in the right direction.
"Last year we only managed to complete five laps in the third practice session and failed to qualify for the race, so I'm looking to etch out that memory."
Perez-Sala said the reorganised team had already proved its calibre by getting the new car ready for the season-opener.
"We've spent three months working relentlessly, but the team and the car are ready for the great task ahead of us," he said. "We have done a lot of things since the last race of 2011 in Brazil and I'm very proud of the entire team but, without a doubt, the hardest part comes now.
"We know where we are but also where we wish to be and with the team spirit and sacrifice that we have shown, I'm convinced that we can achieve it."