Gutierrez keeps Lotus at the top of the timesheets as GP2's Barcelona test ends
| | |
| --- | --- |
| | Thursday, March 8th 2012, 16:22 GMT |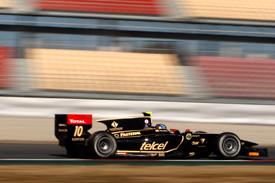 Esteban Gutierrez kept himself and Lotus at the top of the timesheets as GP2's final pre-season test at Barcelona came to a close.
The Mexican, fastest on the second day of testing yesterday, went fastest with a 1m29.154s set in the final hour of the morning's running.
That was enough to edge Davide Valsecchi (DAMS) by just over one tenth of a second.
Rapax's Tom Dillmann ended the day third fastest, the 22-year-old Frenchman also setting the fastest time in the slower afternoon session.
Carlin's Max Chilton was just one thousandth of a second down the road in fourth, ahead of Caterham's Giedo van der Garde and the second Lotus of James Calado.
Day one pacesetter Fabrizio Crestani (Venezuela GP Lazarus) ended the final day in seventh, with Nigel Melker (Ocean) eighth and Fabio Onidi - whose early off at Turn 4 caused the first of several red flags - ninth fastest for Coloni.
Stephane Richelmi (Trident) rounded out the top ten, the 21-year-old getting within six tenths of Gutierrez's benchmark.
The first round of the 2012 GP2 championships commences on 24/25 March at Sepang.
Morning times:
Pos  Driver                   Team                      Time     Laps
 1.  Esteban Gutierrez        Lotus GP                  1:29.154  25
 2.  Davide Valsecchi         DAMS                      1:29.318  26
 3.  Tom Dillmann             Rapax                     1:29.455  25
 4.  Max Chilton              Carlin                    1:29.456  25
 5.  Giedo van der Garde      Caterham Racing           1:29.490  15
 6.  James Calado             Lotus GP                  1:29.599  19
 7.  Fabrizio Crestani        Venezuela GP Lazarus      1:29.581  27
 8.  Nigel Melker             Ocean Racing Technology   1:29.632  36
 9.  Fabio Onidi              Scuderia Coloni           1:29.679  23
10.  Stéphane Richelmi        Trident Racing            1:29.694  28
11.  Luiz Razia               Arden International       1:29.748  26
12.  Jolyon Palmer            iSport International      1:29.849  22
13.  Marcus Ericsson          iSport International      1:29.977  20
14.  Stefano Coletti          Scuderia Coloni           1:30.031  29
15.  Fabio Leimer             Racing Engineering        1:30.047  18
16.  Nathanaël Berthon        Racing Engineering        1:30.055  20
17.  Julian Leal              Trident Racing            1:30.075  38
18.  Rio Haryanto             Carlin                    1:30.211  35
19.  Josef Kral               Barwa Addax Team          1:30.250  30
20.  Johnny Cecotto           Barwa Addax Team          1:30.287  28
21.  Simon Trummer            Arden International       1:30.477  23
22.  Rodolfo Gonzalez         Caterham Racing           1:30.680  24
23.  Jon Lancaster            Ocean Racing Technology   1:30.724  29
24.  Felipe Nasr              DAMS                      1:31.029  25
25.  Ricardo Teixeira         Rapax                     1:31.766  24
26.  Giancarlo Serenelli      Venezuela GP Lazarus      1:32.872  35
Afternoon times:
Pos  Driver                   Team                      Time     Laps
 1.  Tom Dillmann             Rapax                     1:29.705  33
 2.  Stefano Coletti          Scuderia Coloni           1:29.918  24
 3.  Fabrizio Crestani        Venezuela GP Lazarus      1:30.385  13
 4.  Felipe Nasr              DAMS                      1:30.740  36
 5.  Jon Lancaster            Ocean Racing Technology   1:30.890  26
 6.  Marcus Ericsson          iSport International      1:31.175  31
 7.  Davide Valsecchi         DAMS                      1:31.197  37
 8.  Fabio Onidi              Scuderia Coloni           1:31.324  25
 9.  Jolyon Palmer            iSport International      1:31.352  36
10.  Ricardo Teixeira         Rapax                     1:31.406  35
11.  Luiz Razia               Arden International       1:31.611  56
12.  Nigel Melker             Ocean Racing Technology   1:32.295  28
13.  Stéphane Richelmi        Trident Racing            1:32.339  31
14.  Giedo van der Garde      Caterham Racing           1:32.364  51
15.  Julian Leal              Trident Racing            1:32.923  41
16.  Max Chilton              Carlin                    1:33.459  52
17.  Giancarlo Serenelli      Venezuela GP Lazarus      1:33.529  22
18.  James Calado             Lotus GP                  1:33.579  52
19.  Esteban Gutierrez        Lotus GP                  1:33.847  52
20.  Johnny Cecotto           Barwa Addax Team          1:34.086  52
21.  Josef Kral               Barwa Addax Team          1:34.088  40
22.  Nathanaël Berthon        Racing Engineering        1:34.495  39
23.  Fabio Leimer             Racing Engineering        1:34.521  34
24.  Rodolfo Gonzalez         Caterham Racing           1:34.750  46
25.  Rio Haryanto             Carlin                    1:35.312  15
26.  Simon Trummer            Arden International       --        1